Greinke, Hanley spur Dodgers to ninth straight win
Greinke, Hanley spur Dodgers to ninth straight win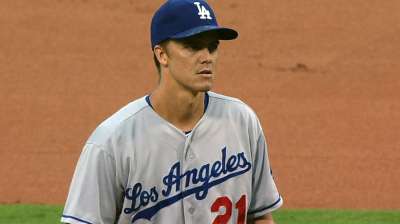 PHILADELPHIA -- Home or road, National League or American League, against rookies or Cy Young winners, it doesn't matter to the Dodgers. They beat them all.
The Dodgers remained unstoppable and spoiled Ryne Sandberg's managerial debut Friday night, Hanley Ramirez homering off Cliff Lee and Zack Greinke pitching 7 1/3 scoreless innings of a 4-0 win over the Phillies in a matchup of former Cy Young winners and opener of a seven-game road trip.
"You expect to win and we have been, and that's how it's supposed to be and it is," said Greinke. "It doesn't even cross the mind that we're going to lose, even when we're down."
The Dodgers' numbers continue to boggle the mind: nine consecutive wins, 24-3 since the All-Star break, 41-8 since June 22. That last mark matches the 1944 Cardinals for the best such stretch since 1900. The Dodgers are a season-high 8 1/2 games ahead of second-place Arizona in the NL West, they have won 18 of the last 19 on the road, five straight at Citizens Bank Park and are 14-1 in August and a season-high 21 games above .500.
So why isn't manager Don Mattingly blown away by his club's astounding success?
"In high school we won 59 straight games," said the Indiana native. "I want to win every day. We have [Clayton] Kershaw going tomorrow and have a good chance to win. You get caught up in the numbers, that you're not supposed to be doing this, but in my mind you can win every night. They say .500 on the road is a good trip? Not necessarily, if you're capable of winning more."
Greinke allowed only three hits, walking four with three strikeouts. Not coincidentally, Greinke's been rolling right along with his team. Slowed early in the season by a sore elbow at the end of Spring Training, then a broken collarbone courtesy of Carlos Quentin, Greinke is 8-1 with a 2.25 ERA since June 16. Overall, he's 11-3 with a 3.02 ERA, and the Dodgers are 16-4 in his starts.
"Good stuff. Added onto his fastball when he had to, up to 95 [mph]," said Sandberg, who took over for Charlie Manuel before the game. "He mixed up the pitches real well. The hitters commented on a real good changeup that had a lot of movement."
Greinke's success is right in line with the rotation as a whole. Dodgers starters are 14-1 in their last 20 games, with an ERA of 1.84.
"I don't think you rattle off the number of wins we have without good pitching every night," said Mattingly. "They've been consistent all year long. Once we got Zack back healthy, the three up top [Kershaw, Greinke and Hyun-Jin Ryu ], you know you'll get a good outing with a chance to win every night."
Greike handed off the credit to the bullpen that finished off the club's 15th shutout, tying Cleveland for the MLB lead. Paco Rodriguez, Ronald Belisario and Kenley Jansen got the last five outs. Mattingly went with Jansen, even though it wasn't technically a save situation, in part because he considers Citizens Bank Park -- similar to Coors Field -- as hitter friendly.
"I think the bullpen does the best job," Greinke said when asked about the starters. "It's pretty incredible. I feel like the bullpen has 200 straight scoreless innings."
The Dodgers also are 35-14 in games started by Ramirez. He returned to the lineup Wednesday night after missing nine starts with a jammed right shoulder and followed a soft one-out single by Adrian Gonzalez in the fourth inning with his 12th homer, a liner into the left-field seats. Ramirez has three homers and eight RBIs in 16 career at-bats against Lee.
Ramirez, who also created an insurance run in the ninth, didn't deny that the sore right shoulder has bothered his swing, as well as his throws.
"I don't want to think about it," he said. "I've got to stay positive. This team needs me in the lineup, that's what the guys tell me, they support me and I'm going to die on the field for this team and for the fans of the city."
The Dodgers added a run in the seventh when A.J. Ellis walked and left fielder Domonic Brown misplayed Mark Ellis' sinking liner into an RBI double.
Ramirez created a final run in the ninth with a leadoff infield single, stealing second (sliding late and hard into the bag), advancing to third on catcher Carlos Ruiz's throwing error and scoring on a single by Scott Van Slyke, recalled earlier in the day. The Phillies finally got Greinke out in the eighth when, with one out, he walked Jimmy Rollins and Michael Young singled. Rodriguez struck out Chase Utley but walked Brown on four pitches to load the bases, and Mattingly brought in Belisario, who struck out Darin Ruf.
A.J. Ellis, who took a foul ball on the left kneecap off the bat of Ruf during that strikeout and needed a few minutes before continuing, said after the game that there was "no structural damage."
Ken Gurnick is a reporter for MLB.com. This story was not subject to the approval of Major League Baseball or its clubs.