Crew recalls Halton for bench depth with Gomez down
Crew recalls Halton for bench depth with Gomez down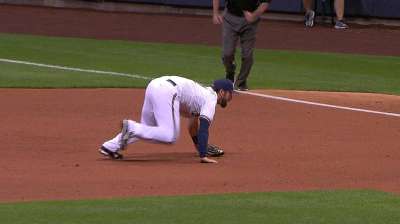 MILWAUKEE -- Needing an extra bat while center fielder Carlos Gomez recovers from a sprained knee, the Brewers promoted first baseman/outfielder Sean Halton from Triple-A Nashville and optioned out right-hander Alfredo Figaro.
Because Gomez was not placed on the disabled list, the Brewers were barred from bringing back recently-demoted Caleb Gindl before he's spent at least 10 days in the Minors.
"We're already a four-man bench, and with 'Gomey' down, we [would have been] down to a three-man bench, and that's really tough," manager Ron Roenicke said. "You can't make moves, and I've got to have pitchers ready to pinch-hit and pinch-run. That's not real comfortable when you're at that point."
Figaro, seldom used by the Brewers, will probably pitch as a starter for Nashville.
"The reason is we would like him to start is so he has a chance to work on his offspeed pitches more," Roenicke said. "It's an opportunity when guys come up here, but it's also an opportunity sometimes when guys go down, to work on things. He has a good opportunity to work on offspeed. If he has offspeed pitches, he can do anything here [in the Majors]."
Adam McCalvy is a reporter for MLB.com. Read his blog, Brew Beat, and follow him on Twitter at @AdamMcCalvy. This story was not subject to the approval of Major League Baseball or its clubs.