After MRI, Crew thinks Gomez can avoid DL stint
After MRI, Crew thinks Gomez can avoid DL stint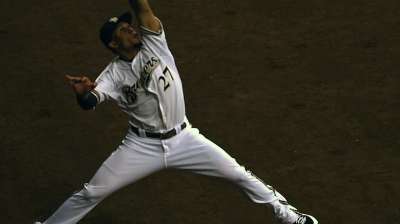 MILWAUKEE -- Brewers center fielder Carlos Gomez expressed relief Friday after an MRI exam proved his painfully sprained right knee felt more damaged than it really is.
The additional tests confirmed the original diagnosis of a sprain. Officially, Gomez is listed as day-to-day, although it was clear by the way he moved about the clubhouse on crutches Friday afternoon that it will be a number of days before he can play.
"I feel worse today, but it's because of the swelling and the new injury," Gomez said. "It's something that feels really bad one day, and then the next day, you feel really good. You can recover real fast, because there's not any damage to anything. That's really good news."
Asked whether the result came as a relief, manager Ron Roenicke said, "Absolutely. I was concerned it was another injury that we were going to lose somebody for a while. I don't know how long it will be. Hopefully it is only three to four days, but you never know on that."
For now, the Brewers do not think Gomez will need time on the disabled list.
"Right now, that's what we're thinking," Roenicke said. "That can change tomorrow or the next day because we'll know a lot more about how he's improving."
Gomez was injured when he made a leaping catch on a Brandon Phillips line drive and crashed awkwardly into the center-field wall.
He also missed a series of games earlier this season with a sprained left shoulder suffered on another wall-banging catch. Two years ago, Gomez broke his collarbone making a diving catch.
"Last night I wasn't even sleeping, thinking about it," he said. "Maybe I have to play a little bit deeper and not run so fast. There were just a lot of thoughts in my mind.
"I've hit the wall so many times, I don't even remember -- probably like 20 times. I'm going to continue to hit it. It's not like I want to, but it happens so quick when you're fielding the ball. It's a line drive and you put all of your concentration into that play. Before you know, you're in the wall."
Roenicke was told about Gomez's sleepless night.
"I understand it, and I probably would think the same way if I was him," Roenicke said. "But Carlos, the reason he is so good is because he goes all-out. He does it on the basepaths, he does it at the plate, he does it in the outfield. I know personally that when you start playing cautious, you don't play as well. I can still remember two balls I was cautious of making plays in the big leagues, and it still bothers me today."
Adam McCalvy is a reporter for MLB.com. Read his blog, Brew Beat, and follow him on Twitter at @AdamMcCalvy. This story was not subject to the approval of Major League Baseball or its clubs.