Sogard protects A's Wild Card lead with clutch double
Sogard protects A's Wild Card lead with clutch double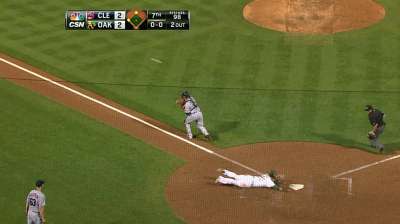 OAKLAND -- The A's have become increasingly reliant on Stephen Vogt since the All-Star break in the absence of John Jaso, who has been on the disabled list since suffering a concussion on July 24.
Oakland's left-handed hitting catcher was recalled for his second Major League stint of the season the following day, and he's garnered praise from both manager Bob Melvin and the A's pitching staff for acclimating himself with the team in such a short period of time.
Yet for all of the things Vogt has provided -- a .282 batting average in 18 games and 13-5 record when he starts, including Friday's 3-2 win over the Indians at O.co Coliseum -- one thing the A's weren't relying on was his speed.
Vogt, nonetheless, scored the go-ahead run from first with two outs in the seventh inning on Eric Sogard's double into the right-field corner. The A's pulled within half a game of the Rangers in the American League West with the win and expanded their Wild Card lead over the Tribe to 4 1/2 games.
"Dude can run for a catcher. I love it," said Sogard, who's batting .315 with 12 RBIs in 22 games since the break after a mediocre first half to become one of the more reliable offensive contributors as of late.
"I can run a little bit," Vogt said, smiling after he was notified of Sogard's assessment. "I played a lot of outfield coming through the Minor Leagues, so I've always been able to run a little bit for the stereotypical catcher. It's more of just running hard than anything. Sogard hit the ball and I just put my head down and went."
Ah, yes. The Minor Leagues. Vogt wasn't even a member of the A's Spring Training roster and was initially a member of the Tampa Bay Rays' organization before switching Coasts and batted .324 with 13 home runs in 74 games with Triple-A Sacramento. But with Jaso's concussion placing the rest of his season in jeopardy, Vogt's presence is immaculately timed for all parties involved. The A's need a left-handed bat at the position for Melvin's platoon-style roster, and Vogt desires playing time at the highest level.
"I don't think you can replace a guy like John Jaso, nor do I try," Vogt said. "But if I can fill in and hold my own, that's all I want to do."
Vogt helped manage a pitching staff that walked an uncharacteristic nine batters on the night, yet managed to limit the Indians to a lone earned run. With five walks on Friday, starter A.J. Griffin has allowed 11 free passes in 10 2/3 innings over his past two starts and 12 in 64 innings in his previous 10 starts. But he also didn't allow a home run for the second straight game after giving up two or more in his previous four outings.
"Seeing him throw 104 pitches after five innings is a little against the grain for him," Melvin said. The ball was up in the zone at times, which you don't normally see out of him, either. He battled himself. He was a little frustrated the whole game with his command, but still ended up getting the big out for us to end the fifth with the bases loaded."
Griffin, while not pitching at his finest, qualified for the win by securing the final out of the fifth, a fly ball to center field with the bases loaded that maintained Oakland's one-run lead after a visit to the mound by pitching coach Curt Young.
"Curt came out and told me, 'Stay within yourself, just keep pitching your game and go out there and execute pitches,'" Griffin said. "That's all I was trying to do all day. I was trying to get early contact there and just try to get him to hit it to someone, and it worked out. He hit the fly ball to center field."
The four runners stranded were a trend all day for the Indians, who finished 1-for-9 with runners in scoring position, stranding 13 along the way.
"We'll always grind. We're not going to quit. They just have a talented bullpen," Indians manager Terry Francona said. "Normally, if you get to the starter, when you get that many pitches in the fifth, you feel pretty good about yourself. But they have some depth in that bullpen."
The A's struck first on a two-run home run by Yoenis Cespedes in the first inning -- his fifth in his last 16 games and 20th of the year after going homerless in a career-high 25 consecutive games -- that kept them in the lead until Sean Doolittle gave up the equalizing run in the seventh.
"We have a lot of confidence in our bullpen," Melvin said. "The only surprise to me was Doolittle giving up an inning. When we get in a position where we have the lead late in games, we always feel like winning here."
Jeff Kirshman is an associate reporter for MLB.com. This story was not subject to the approval of Major League Baseball or its clubs.