Gose looking to turn around 'frustrating' season
Gose looking to turn around 'frustrating' season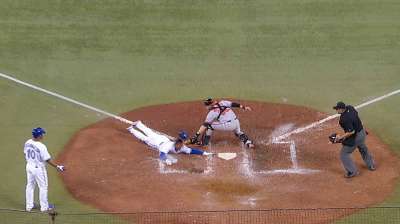 ST. PETERSBURG -- Anthony Gose didn't have to search too deep into his vocabulary to find one word that describes his 2013 season.
"Frustrating. I don't even know if that's a good enough word, but it's been a year. It's been frustrating," said Gose, recalled from Triple-A Buffalo on Thursday night. "There's been moments where it's been good. There's been a lot more moments where it hasn't."
Gose started in center field and batted ninth against the Rays on Friday. And he was perfectly clear what, exactly, he needs to do to get his season back on track.
"Hit the ball," he said. "Specifically, hit the baseball. ... Same thing I'm always trying to work on. Hitting the ball. Same story every year. Hit the ball. When I hit the ball, good things happen. When I don't, [I'm] just a Minor League player."
Manager John Gibbons said Gose likely will split time in center field, with Rajai Davis, starting against right-handed pitchers. However the outfield platoon situation shakes out, Gibbons said the Blue Jays "want to play him. We brought him up here to get a look at him."
"His last stint up here, he played pretty good for us for those couple weeks. His whole thing's hitting, consistency with the bat," Gibbons added. "He's got everything. He's a youngster, too, now. It's not like he's a mid-20s type guy. He's a young kid at this level pretty quick. He's got everything he needs. Now it's just playing and learning and making adjustments. It's pretty simple. Pretty simple, but not easy."
Gose, 23, was batting .239 with a .316 on-base percentage, three homers, 27 RBIs, 64 runs scored and 22 stolen bases in 35 attempts for Buffalo. There was talk that he developed a bad attitude after being sent back down to Triple-A, but he said his frustration was more a product of his inability to hit, particularly his high strikeout total (121 in 106 games).
"There were a lot of things that I could control that I wasn't controlling as far as maybe attitude, hustle, things like that," Gose said. "But it wasn't so much because I got sent down. It was more just, when you go down there and you strike out three times a game four or five games in a row, I'm not going to be happy. I don't think anybody would."
Gose hit .304 in 26 plate appearances for the Blue Jays earlier this season. He said he didn't return to the Majors with anything to prove, though. He had mentally prepared himself to either be called up in September or not at all.
"I'm just going to go out there and play," he said. "The last few weeks, I've hit the ball, I've had better at-bats, put the ball in play consistently -- more consistent, with better contact. Just hopefully I can keep it going here. Hopefully."
Adam Berry is a reporter for MLB.com. Follow him on Twitter at @adamdberry. This story was not subject to the approval of Major League Baseball or its clubs.