Masterson does his part, but Indians squander chances
Masterson does his part, but Indians squander chances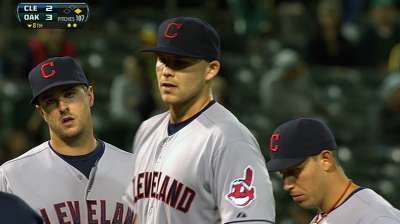 OAKLAND -- Asdrubal Cabrera was staring down redemption. In the ninth inning on Friday night, the Indians shortstop raised his bat, settled into his stance and had an opportunity to right some of the wrongs of the past few weeks.
A's closer Grant Balfour spun a slider and Cabrera offered at the pitch, sending a hard line drive to the left side of the diamond. Perfectly positioned, third baseman Josh Donaldson made the catch and quickly snapped a throw to second base to double up Mike Aviles for the game's final out, abruptly halting Cleveland's rally and dealing the club a 3-2 loss.
For Cabrera, that is just the way things have been going lately.
"That was a nice swing," Indians manager Terry Francona said. "That was unfortunate."
On a night when Justin Masterson provided the Tribe with a solid performance, and the postseason picture finally played into Cleveland's hands, the Indians' offense came up empty at multiple turns. Cabrera's game-ending lineout, which perpetuated a seemingly endless slump for the two-time All-Star shortstop, served as the final nail.
It was an evening of missed chances on the field, and in the standings.
The American League Central-leading Tigers were swept in a doubleheader by the Royals, who now sit only a half-game behind the second-place Indians (65-57). Even with the loss, Cleveland gained a half-game on Detroit, but still sits six games back of first place. The A's currently lead the pack for the AL's second Wild Card spot, but knocked the Tribe to 4 1/2 games back in that race.
It might not be fair to say one player holds the key to Cleveland's fortunes over the next seven weeks, but Cabrera is indeed an integral piece within the team's feast-or-famine offense.
"He goes, we go," Masterson said. "I think he's going to be a big key part as we go down the stretch, as we keep on going. He's been playing tremendous defense for us. He's not hitting as well as he would like, but he's being put in those positions to do it. He's been a big part of this team over the last couple of years. He's a big part of the team."
Cabrera's line-drive out in the ninth with runners on first and second extended his slump to 0-for-20, which matches his career-worst drought. He also went hitless in 20 at-bats in September 2011 and in May 2008. Dating back to July 4, the switch-hitter has hit just .170 (24-for-141) with three home runs, 15 RBIs and a .511 OPS.
In his previous 60 games, Cabrera hit .268 with six home runs, 27 extra-base hits, 29 RBIs and a .769 OPS, which was more in line with his overall career performance. For Friday's game, Francona pulled the shortstop out of the cleanup spot, dropping him to the sixth hole. Cabrera responded by going 0-for-4 in the loss to Oakland (69-52).
"We talk so much about keeping the line moving," Francona said. "We don't really have that big guy in the middle that's going to hit 30 [home runs], so we have to keep the line moving. So a guy like him -- a switch-hitter -- he and [Nick] Swisher both, when they get hot, our lineup just fits so much better."
Cabrera did not have much to offer when asked about his ongoing struggles.
"I've got nothing to say," Cabrera said. "I just have to keep doing what I'm doing. Work hard, and good things will happen."
The Indians chased A's starter A.J. Griffin from the game after five innings by driving his pitch count to 104, but only managed one unearned run against the right-hander. Swisher delivered a run-scoring single off Oakland lefty Sean Doolittle in the seventh inning, but Cabrera ended that rally with a first-pitch flyout to left field with the bases loaded.
On the night, Cleveland's left-on-base total and Cabrera's jersey number were one in the same: 13.
The Indians finished with eight hits and nine walks, but managed only two runs. It marked the first time since a 2-1 loss to the Red Sox on April 11, 1969, that Cleveland had at least that many hits and walks, but finished with two or fewer runs.
"This is a good lineup we're going against right now," A's catcher Stephen Vogt said. "Our pitchers have been sharp all year and are continuing to be. When it comes down to crunch time, they're making the pitches that need to get made and we're playing solid defense. That's a good combination."
Masterson certainly did his part.
The big right-hander worked 7 2/3 innings, allowing three runs on seven hits in a 107-pitch performance. Yoenis Cespedes launched an ill-fated 0-1 slider over the wall in left-center field for a two-run home run in the first inning. With the game tied at 2 in the seventh, Eric Sogard delivered a run-scoring single to right that plated Vogt, who sprinted from first base to beat the throw to the plate.
It was not much, but proved to be enough.
"We just couldn't catch a break when it came down to it," Masterson said. "It's a tough one. I'm out there battling. They're out there playing great defense. They're coming to the plate and taking good [at-bats], swinging the bat and all that. The guys were getting on, but we just weren't able to get that extra one.
"At those times we needed it, we still hit a ball right at somebody."
Cabrera's final swing of the night fell into that category.
The Indians are counting on him to turn things around.
"People don't really talk about it too much," Masterson said, "but he's one of the biggest leaders on this [team]. He's got the most tenure with the Indians of anybody on this team. He's our guy. He's going to continue to work through it and get back to it, and it's going to be fun to see. I think you'll see him carry us throughout the next couple months."
Jordan Bastian is a reporter for MLB.com. Read his blog, Major League Bastian, and follow him on Twitter @MLBastian. This story was not subject to the approval of Major League Baseball or its clubs.