Beckham gets breather; Keppinger starts at second
Beckham gets breather; Keppinger starts at second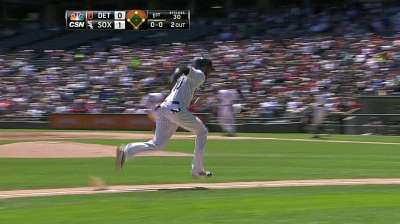 MINNEAPOLIS -- After leaving Thursday night's series opener in the middle of the fourth inning White Sox second baseman Gordon Beckhamearned a partial day of rest Friday.
Running through first on his second at-bat in the third, Beckham said he aggravated a strain in his right quadriceps a little more than usual. Beckham insisted that it's a strain he's been playing with for quite some time and that he simply felt it a little more, causing the staff to pull him as a precautionary measure.
Before Friday's game, manager Robin Ventura said Beckham would likely miss just one game.
"He said he feels a little bit better," Ventura said. "It's just one of those you don't want to chance it today by coming back. We're just going to get treated today. Unless something crazy happens, he probably won't be in."
But when Conor Gillaspie exited with a bruised left hand in the eighth inning, Beckham entered at second and Jeff Keppinger moved over to third.
Ventura said Gillaspie sustained a simple bruise on the relay to third on Wilkin Ramirez's triple in the seventh.
Keppinger, who subbed in for Beckham on Thursday, started on Friday.
Keppinger went 0-for-2 Thursday with a strikeout but is batting .240 with 32 RBIs. Although his numbers are down this year, Ventura said it was large in part the result of a rough start.
"It's one of those he just started out bad," Ventura said. "Lately, he's swung pretty good as far as his approach and doing everything. We had a lot of guys that just started slow. If you could eliminate the first month, it doesn't look quite as bad. I think right now he's about what you thought he was going to be."
Heading into Friday's game, Keppinger was 8-for-28 through August for a .286 average. He hit a solo homer in the third inning off Kevin Correia to give the White Sox a 3-1 lead and finished 2-for-4 with two runs scored in the 5-2 win.
Kelly Erickson is an associate reporter for MLB.com. This story was not subject to the approval of Major League Baseball or its clubs.