Belt flexing muscle during hitting streak
Belt flexing muscle during hitting streak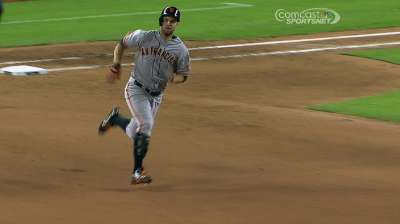 MIAMI -- Brandon Belt's bat has provided plenty of pop while the Giants lineup's season-long struggles have carried into August.
The 25-year-old first baseman extended his season-best hitting streak to 11 games Friday. He is batting .432 (19-for-44) with four home runs during the stretch.
"I'm seeing [the ball] pretty well," Belt said. "I think that's the main thing that helps you feel good every day you go out there is knowing that if you can see the ball well, you're going to have a good chance of hitting the ball hard. That's definitely a feeling you want to have."
Belt's power surge during his hitting streak has accounted for more than 25 percent of his team-leading 15 homers. After belting only seven long balls in 411 at-bats last season, Belt has more than twice that total in 48 fewer at-bats in 2013.
"I'm putting some good swings on some balls," Belt said. "I think swinging at pitches I'm able to drive is key. Laying off a lot of pitches I can't [drive]. I'm just putting some backspin on them and hopefully they carry out."
The first half of August has seen Belt at his best. He is batting .431 (22-for-51) with a .500 on-base percentage and five home runs since the month began.
"He's really been swinging the bat," San Francisco manager Bruce Bochy said. "Brandon, he's really been working hard and he's getting better at-bats, driving the ball better like we know he can."
In an effort to jump-start a Giants lineup that entered Friday ranked 28th in the Majors with only 449 runs scored, Bochy has batted Belt third eight times and cleanup once in nine games since Aug. 7.
Belt, who batted third against the Marlins on Friday night, is hitting .395 (15-for-38) with four home runs, nine RBIs and 11 runs scored since his move up into the heart of San Francisco's order.
"It's definitely a confidence booster," Belt said of his new spot in the lineup. "Just knowing that the coaching staff has confidence in you putting me up in that spot. It's definitely a responsibility because there's a lot of runs to be driven in up there, and I just want to go up there, do my job and hopefully stay up there."
Said Bochy: "He's done a good job in that three-hole."
Joe Morgan is an associate reporter for MLB.com. This story was not subject to the approval of Major League Baseball or its clubs.