Sore Rosario recovers to get win vs. Marlins
Sore Rosario recovers to get win vs. Marlins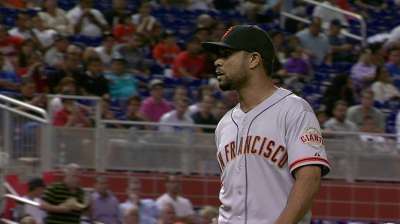 MIAMI -- San Francisco reliever Sandy Rosario earned a win Friday after taking a line drive to the chest Thursday. He pitched two scoreless innings of relief with a bruised sternum in the Giants' 14-10 win against the Marlins.
"He really won the game there for us," San Francisco manager Bruce Bochy said. "He stopped their momentum and threw great. At that point, we've got to have somebody stop it.
"If I have to go get him, then we are going to run thin on pitching. For him to give us two innings was clutch, especially after what happened to him yesterday."
When Rosario heard he was credited with the win by the official scorer's discretion Friday, he was surprised. Rosario thought fellow reliever Jose Mijares, who entered the game in relief of starter Chad Gaudin, got the victory.
"That's good to know," Rosario said, laughing. "I'm so happy now. Now I know. I didn't know that one."
Rosario's availability Friday was determined by a pregame throwing session, according to Bochy.
Rosario's status was in question after an Adam LaRoche liner hit him in the chest during Thursday's win against the Nationals. Rosario had trouble breathing in the immediate aftermath but felt much better Friday.
"He's doing all right. He's a little sore. Right now, he is [available]," Bochy said before Friday's game. "I'll wait until he throws and stuff."
Said Rosario of his injury Friday afternoon: "It's good. I'm sore. I have to go out and see how I feel after I throw and go from there."
Rosario said he experienced pain breathing for the first hour after taking the hit, but it quickly subsided. He said it went from "terrible" in the first hour to "better."
"I feel like I can throw," Rosario said. "We'll see how it feels after I throw."
The hour Rosario described as "terrible" began with some scary first few seconds. Despite his shock from taking a liner off the chest, the pitcher recovered and threw LaRoche out at first.
"At the moment, I didn't think," Rosario said. "I was just trying to find air for the first five seconds. I was trying to breathe, and I couldn't. But I'm getting better."
Joe Morgan is an associate reporter for MLB.com. This story was not subject to the approval of Major League Baseball or its clubs.