Posey gets break during grinding season
Posey gets break during grinding season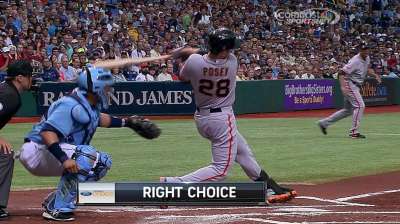 MIAMI -- After catching 164 pitches in the Giants' 4-3 win against the Nationals on Thursday, catcher Buster Posey earned the night off Friday. San Francisco manager Bruce Bochy said he may also sit Posey on Sunday.
Following Sunday's game against the Marlins, the Giants fly home to begin a series against the Red Sox on Monday night.
"After talking with him that [Friday] would be a good day to take off, he may take the day game off here, too," Bochy said. "... It's nothing to be concerned about. Just catching. That was a long game [Thursday]."
Posey, whose 2011 season ended after 45 games due to a broken ankle, played a career-high 148 games and 16 postseason contests in 2012. He caught a staff that ranked seventh in the Majors with a 3.68 ERA.
The All-Star catcher has appeared in all but six games this season, but Bochy emphasized that San Francisco's early-season troubles on the mound were more of a burden on Posey.
The Giants entered Friday ranked 20th in MLB with a 4.04 ERA. Also, the staff's pitches per plate appearances, WHIP (walks plus hits per inning pitched) and walks per nine innings are up from last season, leading to longer innings and longer games for Posey behind the plate.
With a lineup that entered Friday ranked 14th in the National League in runs, extra-base hits and RBIs, sitting a key bat like Posey is difficult. The catcher entered Friday leading San Francisco with 61 RBIs and an .859 OPS (on-base plus slugging percentage) and ranked second with 14 homers.
"It's been a little different year in respect we have played longer games," Bochy said. "You look at the first six weeks, we had our pitching struggling a little bit. There's some long games. It's a different game.
"You catch 145, 130 pitches or you catch 200 pitches. That takes a toll on you, and that's been the difference, too. It's not just a game. It's what type of game it is. We've played longer games this year."
Joe Morgan is an associate reporter for MLB.com. This story was not subject to the approval of Major League Baseball or its clubs.