Rangers 'pen unable to lock down victory
Rangers 'pen unable to lock down victory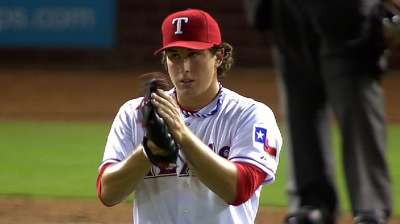 ARLINGTON -- Left-handed hitters were batting .186 (13-for-70) off left-handed reliever Neal Cotts. Kyle Seager, at the plate with one on and one out in the eighth, was hitless in his last 21 at-bats.
Cotts needed Seager and one more hitter before handing off a 1-0 lead to closer Joe Nathan in the ninth. It didn't quite work out that way.
"We were trying to get him," Cotts said after the Rangers' 3-1 loss to the Mariners on Friday night. "If he was going to beat us, try and beat us the other way, and I left the pitch over the middle of the plate. I didn't want him to do what he did -- put it that way."
What Seager did was hammer an 0-2 fastball over the right-field wall for a two-run home run to put the Mariners ahead after they had been held scoreless through seven innings by Derek Holland. Justin Smoak added a solo home run in the ninth off Tanner Scheppers, and the Rangers lost for the second time in three nights at the Ballpark in Arlington.
The late-inning home runs and some early crucial outs on the basepaths cost the Rangers on a night when Holland was in a taut pitching duel with Mariners All-Star right-hander Hisashi Iwakuma. The Rangers appeared as if they were going to overcome their early mistakes until the Mariners got to the bullpen late.
This was still just the Rangers seventh blown save, the fewest in the American League. They also lost for just the third time in 61 games when leading after seven.
"We just couldn't seem to get in sync like we wanted to," Rangers manager Ron Washington said.
"We just didn't win," A.J. Pierzynski said. "There's no excuses, no reasons, no nothing. It just didn't happen. We had a couple opportunities later in the game, but it didn't work out. Those days happen."
The blown save denied Holland his 10th win of the season. He has made six starts since the All-Star break, but is just 1-2 despite a 2.18 ERA and opponents hitting .218 off him. Holland allowed two hits while walking three and striking out six before leaving after seven innings. He had thrown 105 pitches.
"I felt good," Holland said. "They asked me if I could go back out there and I told them I could. But my pitch-count hurt me. I fell behind quite a bit and had a few walks I shouldn't have had. Overall though I gave my team a chance to win."
Cotts took over in the eighth, having allowed just one run in his last 15 innings and his 0.93 ERA for the season was the lowest among qualifying relievers. He struck out Brad Miller and was 0-2 on Nick Franklin before throwing four straight balls.
That brought up Seager, who had also never hit a home run on an 0-2 pitch until he took Cotts deep. It was only the second home run Cotts has allowed to a left-handed hitter in 71 at-bats this season.
"He's got good stuff," Seager said. "There's a reason his ERA is what it is. He's got a little angle and his ball has some life on it. He gets some cut on his fastball and he's got a cutter and slider to go with that. He's just one of those guys you've got to hang in there and hopefully get a pitch in the plate you can handle."
Iwakuma allowed one run in seven innings before left-hander Oliver Perez took over to start the eighth. Perez walked Craig Gentry and hit Leonys Martin with a pitch. After right-hander Yoervis Medina took over, Elvis Andrus moved the runners over with a bunt.
Medina struck out Ian Kinsler, and Adrian Beltre was walked intentionally. That allowed Mariners interim manager Robby Thompson to bring in left-hander Charlie Furbush for a lefty vs. lefty matchup against Pierzynski. Furbush got Pierzynski on a weak popup to third to end the Rangers best threat since scoring their only run.
The Rangers took a 1-0 lead in the bottom of the fourth after Kinsler led off with a walk and went to third on Beltre's single to left-center. Pierzynski followed with another single to left center that scored Kinsler and sent Beltre to third. But Pierzynski, trying to stretch his hit into a double, was tagged out at second base by Franklin after falling off the bag as he slid.
"He fell on me and kind of knocked me off the bag a little bit," Pierzynski said. "I thought I was still on it, but it was one of those things, a split-second judgment call."
Andrus was thrown out in the first inning on the bases. He was on first base with two outs when Beltre singled to right. Andrus went to third and when right fielder Michael Morse took his time lobbing the ball back in, he broke for home. But Franklin, the Mariners second baseman, fired a strike for a relay and Andrus was tagged out on a close play by catcher Humberto Quintero.
"You kind of hate it," Andrus said. "You want at least one to go your way, but that's the way baseball is. Today it was for them, and probably tomorrow it'll be for us. You got to keep playing hard."
T.R. Sullivan is a reporter for MLB.com. Read his blog, Postcards from Elysian Fields, and follow him on Twitter @Sullivan_Ranger. This story was not subject to the approval of Major League Baseball or its clubs.