Seager's clutch HR backs Iwakuma's strong start
Seager's clutch HR backs Iwakuma's strong start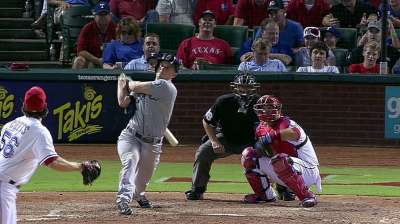 ARLINGTON -- Kyle Seager picked the perfect time to break out of an 0-for-21 slump, ripping a two-run home run off reliever Neal Cotts in the eighth inning Friday as the Mariners rallied for a 3-1 victory over the red-hot Rangers.
Seager's go-ahead blast and a solo shot by Justin Smoak in the ninth made a winner out of Hisashi Iwakuma, who battled toe-to-toe with Derek Holland for seven tough innings before the Mariners came from behind to hand Texas just its third loss in its past 17 games.
"That's alright with me," Seager said of his breakout timing. "The last couple games I've been starting to feel a little better, so eventually, hopefully, they'll start falling for you. Thankfully for me, it did tonight."
Each team managed just four hits, but the Mariners made more of theirs as the two late-inning homers spoiled Holland's seven shutout innings.
Seager unloaded against Cotts, who had allowed just one prior homer this season -- to Seattle's Raul Ibanez -- and came in with a 0.93 ERA in 37 games.
"We were trying to get him," Cotts said after Seager caught up to an 0-2 fastball for his 18th homer of the year. "If he was going to beat us, try and beat us the other way, and I left the pitch over the middle of the plate. I didn't want him to do what he did -- let's put it that way."
Smoak then took Tanner Scheppers deep for his 14th home run of the season to provide a little cushion for rookie Danny Farquhar, who slammed the door with a perfect ninth inning in his first appearance since his first blown save in the closer's role.
"Awesome," said Farquhar. "It's always good after a rough outing just to get back on the mound, get back on that horse, and get after it again.
"To be honest, it was a little hard for me to sleep that night, giving up the game how I did," Farquhar said of his loss to the Rays on Wednesday. "But I'm pretty good at having a short memory. I guess just the way I was built or something. Yesterday I had no problems, back to normal Danny, and today I was happy to get back out there and get the save."
Texas loaded the bases in the bottom of the eighth off relievers Oliver Perez and Yoervis Medina, but Charlie Furbush came on to get A.J. Pierzynski on a pop out to third to preserve the lead for Farquhar.
Pierzynski has won his share of games with bloop hits over the years, but this time, his little looper was easily run down by Seager behind third base.
"I didn't think he got it too good," said Furbush. "I heard the bat break, so I figured it wouldn't get too far. And great catch by Seager. It was a fastball in. We'd talked about going with another slider, but I figured I'd go with a heater. I wanted to go away, but it went hard in and worked out alright."
The Mariners are now 2-2 to start a tough nine-game road swing and are 56-65 on the year. Wins have been tough to come by for Seattle against the Rangers, as they're now 18-34 against their division rivals over the last four years, including 8-18 in Arlington.
Holland is 8-2 with a 3.08 ERA in his career against the Mariners, who didn't get a hit until Smoak and Humberto Quintero singled in the fifth. Holland walked three and struck out six, but wound up with a no-decision, remaining 9-6 while lowering his ERA to 2.95.
Iwakuma dueled Holland for seven innings, but was trailing 1-0 until Nick Franklin walked and Seager followed with his 18th homer of the season with one out in the eighth to snap his recent slump.
"We knew he was struggling a little bit," said acting manager Robby Thompson. "But the thing about him, you'd never know, the way he handles himself, whether he's 10-for-20 or 0-for-21. And that's the sign of a pro right there. He's a battler and that's why he's in there in the third hole."
Iwakuma improved to 11-6 with a 2.95 ERA. The former Japanese standout picked up his first career win at Rangers Ballpark and is now 3-1 with a 2.60 ERA in four starts against Texas this year.
Iwakuma dodged trouble in the first when Elvis Andrus was tagged out at the plate trying to score from first on a base hit to right by Beltre and he stranded a runner at third in the second.
The Rangers got their lone run in the fourth on an RBI single by Pierzynski.
"I had to be patient," said Iwakuma, who retired 11 of the final 12 batters he faced after Pierzynski's hit. "They have a very good lineup and I was just keeping the ball down, trying to miss down and not up if I did miss. I was making good pitches when I needed and was able to get out of some jams."
But Iwakuma's biggest moment came in the top of the eighth, when Seager drove in the go-ahead run after Iwakuma had been told he was done for the night.
"I was in the dugout," a smiling Iwakuma said through translator Antony Suzuki. "I was yelling, 'Get over that fence.'"
Greg Johns is a reporter for MLB.com. Follow him on Twitter @GregJohnsMLB as well as his Mariners Musings blog. This story was not subject to the approval of Major League Baseball or its clubs.