Parra embraces new role with Reds in return to Miller
Parra embraces new role with Reds in return to Miller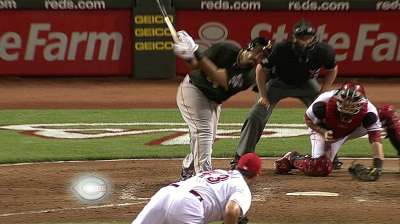 MILWAUKEE -- There was a time when Manny Parra took to the Miller Park mound as part of the Brewers' future rotation plans. He returned there Thursday with a newfound role in the Reds' bullpen.
Parra, who was drafted by the Brewers in 2001 and spent the first six years of his career in Milwaukee, pitched at Miller Park for the first time Thursday since signing with the Reds as a free agent in the offseason. He faced two batters in the eighth inning of the Reds' 2-1 win, striking out one and allowing a single.
On Friday, the 30-year-old left-hander spoke about his new career path has in Cincinnati and how a simple change of scenery can make the biggest difference.
"Yeah, it's refreshing," Parra said. "It's just something new again. Sometimes you get caught in a rut and that's kind of the way it was starting to feel for me [in Milwaukee]. It's crazy the way this game is, how you make one small adjustment and see a big, big change."
The Reds played in Milwaukee in mid-July, but Parra did not pitch. He did, however, say all of his hellos to former teammates and friends, which helped him focus on baseball when he did take the mound in his second visit on Thursday.
"I think the first time we came here, everything was weird and I was making sure I said, 'Hello,' to everybody and doing all that," said Parra. "Yesterday, it actually just kind of felt normal."
Parra tweaked his delivery this season with the Reds and has a 3.41 ERA in his first 38 appearances. He started the year as a long reliever, but with an injury to lefty Sean Marshall, his role out of the bullpen has changed.
"I'm coming set a little bit more closed," Parra said of his modified delivery. "Once I start moving, though, it's funny, because a lot of the pieces start to look the same. The only thing is, it's not as deliberate. I'm not as slow. I'm kind of just getting my balance and going. Sometimes there's less time to feel and think when you're doing that, it's more of an athletic movement."
Parra said the addition of a slider has helped him keep hitters off his fastball.
"Just being able to get an offspeed pitch, because I was just getting hammered on my fastball," he said. "My fastball command has never been like a Kyle Lohse or someone who's down and away. For me, I have to have a little bit of room for error there."
"The better he did, the more of an important position we put him in," Reds manager Dusty Baker said. "And also, when Marshall went down, he was the man. Early in the year, he was kind of a long man, he was matching up against some right-handers that he probably shouldn't have been facing. Now, we can try to match him up the best we can with lefties and some righties."
Parra said learning from the eight-year veteran Marshall has helped him find comfort in his role out of Cincinnati's bullpen.
"Although we're not the same pitcher, there's things that he does that I can try to come in and do," Parra said. "Especially being in a new role like I am now, where I'm coming in and facing a lot of lefties. Before, it was just kind of a long guy out of the 'pen, there just wasn't really a role for me."
Kevin Massoth is an associate reporter for MLB.com. This story was not subject to the approval of Major League Baseball or its clubs.