Gibson hopes return of Cahill bolsters rotation
Gibson hopes return of Cahill bolsters rotation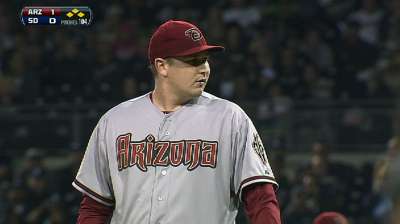 PITTSBURGH -- D-backs manager Kirk Gibson is hoping that Saturday is the start of something for his starting rotation.
Trevor Cahill makes his return to the mound after being on the disabled list since July 1 with a right hip contusion.
The starting rotation was expected to be a strength for the D-backs this year, but injuries and some ineffectiveness have kept its composition in flux.
"He's got good stuff. We need him to throw the ball good and be consistent and go deeper in games for us, and to have our rotation kind of solidified," Gibson said. "That's what we're hoping will happen, because we've had a lot of guys come in and out, and it's what you have to do, but it makes it tough as well."
During his time on the shelf, Cahill also worked at making some mechanical adjustments. Just before going on the DL, Cahill had trouble repeating his delivery and maintaining a consistent arm slot.
One of the biggest improvements Cahill hopes he's made is throwing to his glove side -- in to left-handed hitters and away to righties -- consistently.
"I looked at a lot of video," Cahill said. "It's tough to throw my sinker to the glove side."
To help him do that, Cahill focused on throwing his four-seam fastball to that side of the plate and then switched to the two-seam sinker after getting comfortable.
Steve Gilbert is a reporter for MLB.com. Read his blog, Inside the D-backs, and follow him on Twitter @SteveGilbertMLB. This story was not subject to the approval of Major League Baseball or its clubs.