Gibson, Putz weigh in on expanded replay
Gibson, Putz weigh in on expanded replay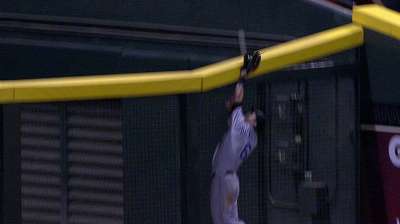 PITTSBURGH -- The D-backs are taking a wait-and-see approach on the proposal in front of Major League owners regarding the expanded use of instant replay for the 2014 season.
"In the end, I think it'll be fine," D-backs manager Kirk Gibson said. "They might have to adjust it. Baseball has been pretty staunch about the way it's done things. This will be a little different for them. I'm sure they'll evaluate after a year and see how it went."
According to the proposal, managers will be able to challenge one play in the first six innings of a game and two more from the seventh through the end of the game.
Arizona reliever J.J. Putz, on the other hand, likes the way things are right now.
"I kind of like baseball being pure with the human aspect and the human error of the game," Putz said. "I think the umpires sometimes get undue criticism. There's countless plays every game throughout the year and they may miss probably less than one percent of them. That's pretty good. It seems like the only ones that anybody ever brings up replay with are the ones that are at the end of the game, where they think that's the deciding factor of a ballgame. But there could be a play in the first or second inning that could have directly affected the outcome of the game."
Gibson, too, said that umpires are criticized more than they should be.
"I've always said the umpires do a good job in my book," Gibson said. "They miss some calls. But it is a game of failure. I'd be interested to hear what the umpires say, if they want to do it or not. It's like anything else. People have been bellyaching about it for a while, so they're going to give in to it a little bit. If it doesn't work out, we'll change."
Steve Gilbert is a reporter for MLB.com. Read his blog, Inside the D-backs, and follow him on Twitter @SteveGilbertMLB. This story was not subject to the approval of Major League Baseball or its clubs.