Ethier gets breather for opener in Philly
Ethier gets breather for opener in Philly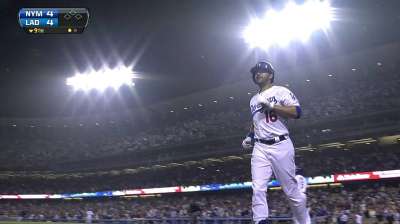 PHILADELPHIA -- Andre Ethier, rushed to a hospital Tuesday before homering in the clutch Wednesday, was on the bench for the Dodgers' opener against the Phillies on Friday, but not because of his sore calf.
"It's two-fold," manager Don Mattingly said. "Obviously, he's ready to play. He wanted to play. If there had been a different matchup, but he's not good against Cliff Lee. It had nothing to do with his health. The computer kicked him out."
Ethier is 0-for-8 with four strikeouts against Lee lifetime. So Mattingly instead started right-handed hitter Scott Van Slyke in right field. Van Slyke was recalled for the fourth time this year earlier in the day.
"Like I told him, if he was healthy, I would look at this as two days off [following a travel day]," said Mattingly. "This is how I make up the lineups. I look for a combination of days."
Ethier said the calf, which has bothered him since he was hit by a pitch in Chicago nearly two weeks ago, continues to improve.
"All signs point to it getting better every day," he said. "Now is not the time to stay off it. We need to win these games."
Ken Gurnick is a reporter for MLB.com. This story was not subject to the approval of Major League Baseball or its clubs.