Cards can't counter vs. Cubs as Westbrook wild early
Cards can't counter vs. Cubs as Westbrook wild early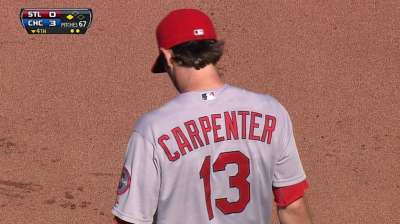 CHICAGO -- Again undone by his inability to get in sync early, Cardinals starter Jake Westbrook was unable to parlay a few extra days' rest into any sort of positive momentum on Friday. Instead, the Cardinals were again stalled by the Cubs, who just took two of three in St. Louis last weekend.
In front of 35,258 in this series opener at Wrigley Field, the Cubs cruised to a 7-0 win over the Cardinals a day after their emotionally charged series win over Pittsburgh. Right-hander Jake Arrieta made that a fleeting memory, shutting out St. Louis for seven innings to earn his first victory as a Cub.
It marked the eighth time the Cardinals have been shut out this season. Three of those have been at the hands of the Cubs, who evened the series vs. their longtime rival at 7.
"We've played some of our best baseball against them," said Cubs manager Dale Sveum, whose club is 46-61 against all other opponents. "Even in some of the ballgames we've lost, we've played good ball and come up on the short end. We've played these guys really well."
Westbrook hasn't had success against any club he's faced recently. The Cardinals have lost his last four outings, and his opening inning has been the primary problem in each. He started Friday without command of his sinker, the key pitch in Westbrook's repertoire. Missing mostly off the side of the plate, the veteran walked the bases loaded before Nate Schierholtz ripped a two-run single to center.
A double play positioned Westbrook to get out of the mess, but the Cubs tacked on one more run on Donnie Murphy's two-out single before the inning closed. Those would be the first of seven runs (six earned) charged to Westbrook in his 6 2/3-inning start.
"That's not what any of us were looking for," manager Mike Matheny said. "We talked about it before, sometimes he just has trouble finding the release point for the sinker, and he didn't find it today until it was too late."
Westbrook has been battered for 24 runs on 29 hits and 15 walks over his last four starts (21 1/3 innings). The majority of that damage has come in Westbrook's first inning of work. Fifteen of those runs, as well as 12 hits and eight walks, have come in Westbrook's opening inning. The stretch includes three starts and one extended relief appearance in which Westbrook entered in the second inning, pitching on three days' rest. He was making Friday's start after eight days off.
Westbrook denounced any possible correlation between pitching on irregular rest his last two times out and the subsequent results.
"It's always frustrating when you don't give your team a chance to win and you don't do your job, which I haven't been able to do for a couple outings," Westbrook said. "It's very frustrating. It's just getting back into locating my pitches and being down in the zone and getting ground balls. I've got to get back to that. I'm not putting myself in a good position to succeed. It's really cost me."
Wanting to give a hard-used bullpen a respite, Matheny pushed Westbrook as deep as he could. Westbrook threw a career-most 124 pitches before exiting with two runners on in the seventh. One of those runners scored when Sam Freeman uncorked two wild pitches in relief.
In between, the Cubs scored once in the fifth and twice more in the sixth to push the game out of reach.
Since coming off the disabled list in mid-June, Westbrook is 5-7 with an ERA of 5.86. He had a 1.62 ERA -- lowest in the National League at the time -- when he began his DL stint in mid-May. But elbow discomfort is not to be blamed for this recent stretch, as Westbrook confirmed after Saturday's outing that his arm feels fine.
The question the Cardinals have to mull over now is whether keeping Westbrook in the rotation continues to give them the best chance to win. Matheny would not confirm that Westbrook would not make his next start as scheduled, saying, "we'll see how he feels tomorrow."
Should the Cardinals want to make a change, they have an in-house candidate (Michael Wacha ) and another waiting in Triple-A (Carlos Martinez).
Sunk in the early three-run hole, the Cardinals had limited opportunities against Arrieta, who was recalled from Triple-A to make his second career start for Chicago. Arrieta joined the Cubs' organization in a July trade that sent Scott Feldman to Baltimore.
St. Louis' lone hit through the first six innings was an infield one. It followed Allen Craig being hit on the left elbow, but Arrieta snuffed out that potential rally by getting Kolten Wong to ground into a double play in his first Major League at-bat.
"He was hitting his spots with all his pitches, making the right pitches," Wong said after his 0-for-3 debut. "It was just one of those days where he didn't really give me anything to hit."
The Cardinals advanced runners to third with two out in the sixth and seventh, but did not get the timely hit to capitalize. They finished the game with two hits and two walks.
"It's just a matter of commanding the ball and limiting my walks," Arrieta said. "That's what's gotten me in the past is too many free passes and letting guys get away when I'm in favorable counts. I've made a conscious effort to get better at certain things, and it's starting to show."
The loss dropped the Cardinals into a second-place tie with the Reds, who will finish the day a half-game above or below the Cardinals once they play later Friday night. St. Louis has not been in third place in the NL Central since the first week of the season.
Jenifer Langosch is a reporter for MLB.com. Read her blog, By Gosh, It's Langosch, and follow her on Twitter @LangoschMLB. This story was not subject to the approval of Major League Baseball or its clubs.