Twins activate Doumit, option Colabello
Twins activate Doumit, option Colabello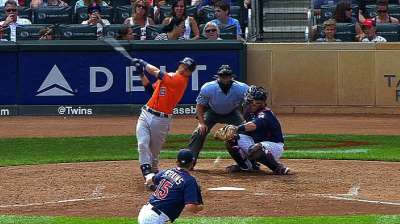 MINNEAPOLIS -- The Twins activated catcher Ryan Doumit from the seven-day concussion disabled list on Friday and optioned first baseman Chris Colabello to Triple-A Rochester to make room for him on the roster. Doumit also made his return to the lineup, starting at designated hitter and batting fifth against the White Sox.
Doumit sustained a concussion when he took a foul tip off his facemask on Aug. 4, and he was placed on the DL on Aug. 8 with concussion-like symptoms. Doumit tried to catch against the Royals on Aug. 7 but left the game with nausea.
But Doumit caught a bullpen and took batting practice at Target Field without any issues on Wednesday, and he passed an ImPACT concussion test. The paperwork from the test was sent to Major League Baseball and it was approved by the league as part of MLB's concussion policy.
"It's nice to get Doumit back because he's been champing at the bit to get back here," Twins manager Ron Gardenhire said. "He did everything yesterday from blocking balls in the dirt, bullpen sessions, taking BP and running around the bases. So he feels great."
Doumit finished Friday night's 5-2 loss with a single in four at-bats.
Colabello, meanwhile, was hitting well recently, having batted .288/.403/.538 with four homers and seven RBIs over his previous 17 games, dating to July 25. But Colabello was a victim of a numbers crunch, as Doumit will now serve as the primary designated hitter while Justin Morneau plays every day at first base.
Colabello also saw some time in right field, but the Twins opted to keep Wilkin Ramirez and Chris Herrmann on the roster because both are more experienced in the outfield. Ramirez, who is out of Minor League options, is the club's lone backup center fielder to Clete Thomas, while Herrmann adds versatility with his ability to catch and play both left field and right.
"The move with Colabello weighed on my mind more than anything else," Gardenhire said. "I like having Colabello here. It was a tough decision. It came down to what we needed on our bench with Doumit coming back and it's real important to have a third catcher here."
Rhett Bollinger is a reporter for MLB.com. Read his blog, Bollinger Beat, and follow him on Twitter @RhettBollinger. This story was not subject to the approval of Major League Baseball or its clubs.