Chen falters late; Orioles lose fourth in a row
Chen falters late; Orioles lose fourth in a row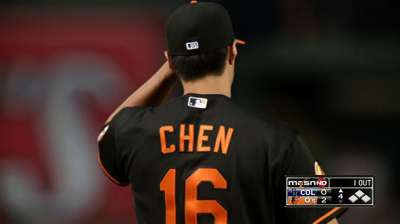 BALTIMORE -- Coming off getting swept in Arizona, in a series marred by ineffective relief pitching and a maddeningly erratic offense, the Orioles hoped Thursday's off-day would provide enough reprieve to turn the page and get back to playing well-rounded baseball.
Instead, Baltimore's recent struggles were on full display for its home crowd, as the team continued its funk in nearly every facet of the game in its fourth straight loss, a series-opening 6-3 defeat to the Rockies.
A lineup capable of mashing homers at an alarming clip and putting up double-digit runs, had one hit after the third inning, as starter Wei-Yin Chen continued to struggle deep in the game and get no run support. On a night when the Orioles (65-56) lost reliever Francisco Rodriguez to injury, struggling closer Jim Johnson, who had blown three consecutive opportunities, allowed a solo homer and invoked a smattering of boos from the 31,438 at Camden Yards who witnessed the downturn.
"The team is fine," center fielder Adam Jones said of the clubhouse morale for a reeling Baltimore team that lost ground in the American League Wild Card race and missed an opportunity to pick up ground on the AL East-leading Red Sox, who lost to the Yankees. "We lost. I think this is honestly something that we needed, kind of a kick in the pants to wake us up.
"We're in a unique position, in back-to-back years trying to do something special. Last year, everybody said we couldn't. This year, we created the expectation. This is something you've got to go through to get to it. The adversity, I think this ballclub needs, because most of us in here have overcome a lot of adversity, and collectively I think we can do it again."
There's no doubt the third-place Orioles need something to get back on track and recapture the kind of magic that made them king of close games and extra-innings victories a year ago. Friday's loss was the first time this season Colorado (58-65) had won a road game in which their opponent scored first.
"It's like the chicken and egg question," outfielder Nate McLouth, who hit a leadoff homer and made a fantastic catch, said of the team needing a spark to get back on track. "What happens first? What that spark is, who knows. It just takes one game to turn this around and we can kind of get a better feeling around here."
The feeling around Chen lately in the later innings has been an uneasy one, and the 27-year-old did nothing to quell that against Colorado.
He breezed through the early part of the game before succumbing to another rough stretch -- highlighted by a pair of homers -- that saw his earned run total after the fifth inning continue to accumulate at a high rate. Chen didn't pitch particularly bad, allowing four earned runs in 6 1/3 innings, but 17 of his 34 allowed have come in the sixth inning or later.
"Actually, I feel really good today in the early on, especially, I could attack both sides of the plate," Chen said through interpreter Tim Lin. "In the late innings, I felt like I couldn't control the ball in or out. So these are the things I have to learn. Everything I have to learn, just like how to control a ballgame in the late innings."
Chen, who got a double-play ball to end the fifth, watched Rockies outfielder Charlie Culberson connect for his first career homer in the sixth to tie the game at 2. Culberson, recalled from Triple-A two weeks ago, blasted a 1-2 pitch just on the right side of the left-field foul pole for a leadoff shot. Chen issued a leadoff walk and a two-run shot to Wilin Rosario to lead off the seventh and end his night.
The 105-pitch outing -- which marked the first time since May 1 Chen had allowed more than three earned runs -- was followed by Rodriguez, who recorded the final two outs of the seventh before exiting with a right groin strain in the eighth. Rodriguez, who walked off limping into the home clubhouse and is listed as day to day, left after Charlie Blackmon's homer -- which landed on Eutaw Street -- and a Dexter Fowler single.
"I didn't really know anything about it," Blackmon said of having his name going on Eutaw Street as part of Orioles lore. "They were telling me after the game. It's cool if you can do it. They'll put a plaque out there with your name on it. There are not a whole lot of plaques with my name on it going up anywhere."
Blackmon's homer pushed the Orioles' deficit to 5-2, and Johnson allowed a solo homer to Todd Helton in the ninth to bring on a chorus of boos and put the Rockies up by four.
But the pitching wasn't the sole culprit in Friday's loss, as the Orioles lineup -- which jumped out to an early two-run lead -- was stonewalled the final two-thirds of the game.
"I think that's a good word to use," manager Buck Showalter said of his lineup being erratic recently. "It has kind of been up and down. We all search for it, that everybody's swinging the ball well every night. That's why we work, and that's why they work. We've got some guys with a really good track record.
"We'll get back there at some point. And we hope it's tomorrow. Every day is an opportunity for that to start."
McLouth's leadoff homer in the first started the O's off, and they pushed that lead to two with Jones' bases-loaded single in the third. Jones snapped an 0-for-15 mark with the hit off Rockies starter Juan Nicasio, but that's all the O's could get, as Nick Markakis popped up and Matt Wieters lined out sharply to second base to strand a trio of runners.
Nicasio exited after six innings, and the Rockies didn't allow another hit until Wieters' 17th home run of the year, a solo shot to center off closer Rex Brothers with one out in the ninth.
"At the end of the day, our job is to play baseball and we've got to play better ball," Jones said. "You can hear it tonight in the stadium, the fans were unhappy about our performance. Hey, we go out there and grind, things happen. People fail to realize the Rockies get paid too to play the game. They're not just showing up and giving the game away. We've got to go out there and play better. Not just better, but smarter."
Brittany Ghiroli is a reporter for MLB.com. Read her blog, Britt's Bird Watch, and follow her on Twitter @britt_ghiroli. This story was not subject to the approval of Major League Baseball or its clubs.