Showalter has options outside Johnson to close
Showalter has options outside Johnson to close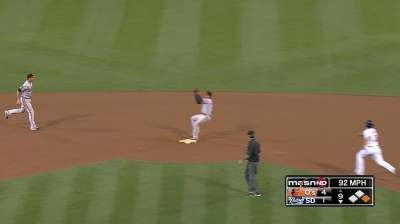 BALTIMORE -- Does Orioles manager Buck Showalter still believe Jim Johnson is his team's best closer?
"Yeah. I think we have a lot of options, and he's one of them," Showalter said of Johnson, who blew his third straight save opportunity in Arizona on Wednesday and now has a Major League-high nine blown saves this season. "We're lucky to have all those options."
Johnson again struggled in Friday's 6-3 loss to Colorado, allowing a solo home run to Todd Helton in the ninth inning. Johnson retired the other three batters he faced, but he has now allowed home runs in two of his last three outings.
If Showalter doesn't go to Johnson in the ninth inning, he has the benefit of having experience in his 'pen, with former closer Francisco Rodriguez (who left Friday's game with a right groin strain) an option, as well as fellow late-inning righties Tommy Hunter and Darren O'Day. Lefty Brian Matusz could also see time in the ninth depending on the matchup.
Johnson, who set a club record with 35 consecutive saves earlier this season -- dating back to 2012 -- hasn't looked nearly as crisp as last year's All-Star form. He has a Major League-leading 39 saves, and is 3-7 with a 3.62 ERA in 58 outings.
When asked where his confidence level is, Johnson said it's right where he needs it to be, although Showalter -- pressed as to whether the right-hander needs a few days off following Thursday's off day -- left the door open in terms of whether he will go to Johnson in the next save situation or give him some time off.
"There's some merit to different things of that [nature]," said Showalter, who could employ a closer-by-committe situation based on matchups for the immediate future. "Depends on how I frame it … there's some things we've discussed. I've had conversations. And if we decided to do that, it's not going to be some big announcement. It'll be something I talk to people about. And fortunately you'll probably know about it when the [bullpen] gate opens."
The case of Johnson, who was an All-Star last season, is a puzzling one. He converted 10 straight saves prior to this stretch and had been the model of consistency for an exceptional Orioles bullpen until hitting a rough stretch -- in which he blew four of five save chances -- in May. Johnson said he doesn't think his recent outings have been about command, and said Friday he felt he made some good pitches in Arizona.
"I don't think it's a question of mixing it up as much," Johnson said. "Earlier, it was a matter of location. I don't think that's the issue [recently]. I've been making good quality pitches and just haven't seen the results.
"I know what my strengths are as pitcher. My strengths are pitching to contact. I'm not going to try to go out and strike everybody out, because that's going to put me in worse situations. So I need to trust the process of what I do and stay true to who I am."
"I know the finality of it, and I know the questions should, and need to be, asked," Showalter said of Johnson. "And it's frustrating for Jimmy and me. Not frustrated with him, but frustrated for him. There's some things we haven't done in other innings, too, but I understand the finality of that inning."
Brittany Ghiroli is a reporter for MLB.com. Read her blog, Britt's Bird Watch, and follow her on Twitter @britt_ghiroli. This story was not subject to the approval of Major League Baseball or its clubs.