Quintana backed by HRs in road victory over Twins
Quintana backed by HRs in road victory over Twins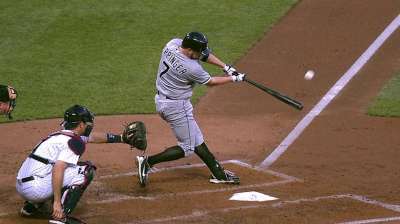 MINNEAPOLIS -- The White Sox were a different team on July 13 with a different mix of players. But regardless of who was in the clubhouse then or is now, July 13 marked Chicago's last road win -- until Friday night.
Using two home runs in the third from Jeff Keppinger and Adam Dunn, the White Sox snapped a 10-road game losing streak with a 5-2 win over the Twins at Target Field.
"I don't look at it like we're the same group that went out on the road last time," manager Robin Ventura said. "It just feels different."
For the second night in a row, the White Sox held a three-run lead and looked in danger of relinquishing the advantage. But the second time proved to be the charm as the South Siders were able to hold off a late Twins rally for the win with Addison Reed earning his 29th save.
After taking a 2-1 lead in the second, the White Sox piled on two more runs in the third with a pair of solo home runs from Keppinger and Dunn. With one out, Keppinger lifted his third home run to the left-field bleachers. Dunn followed two batters later, sending a blast into the flowers in the right-field overhang, giving the White Sox a 4-1 lead.
"They got us pretty good at home," Ventura said, referencing the 11 home runs the Twins hit off the White Sox last weekend. "We haven't had too many of those when we've hit them like that. It was nice. You can't really count on [Keppinger] doing that a whole lot, but it was good to see, good to see him swing."
White Sox starting pitcher Jose Quintana -- who faced the Twins in his last start, taking a loss as he gave up five runs on six hits and two walks -- gave up just two runs on six hits and two walks while striking out seven over his 6 2/3 innings.
"The only thing I did was try to attack early," Quintana said through translator and White Sox coach Lino Diaz. "I tried to come in and attack early, throw strikes, throw every single one of the batters. Thankfully, everything worked out. I was able to get them back."
"He used a lot of pitches, I think," Ventura said. "He kind of gutted it out and went extra long, probably, for us tonight."
The lefty did find himself in a jam in the third, loading the bases after hitting Josh Willingham with a pitch. With two outs and little room for error, Quintana battled with Ryan Doumit in a 12-pitch at-bat. He threw a changeup to start the at-bat, followed by 10 fastballs and ending with a curveball to get Doumit looking.
"It was a pretty gutsy pitch," Ventura said. "It was an offspeed pitch and it ends up getting him. It takes a lot out of you though. It was good he came back the next inning and kind of had an easier inning. Again, he's a gutsy kid."
But before Quintana exited the game, the Twins gained some momentum in the seventh after Wilkin Ramirez tripled. He later scored on Brian Dozier's grounder up the middle to make it 4-2.
With a runner on first, left-hander Donnie Veal relieved Quintana only to walk Joe Mauer, putting runners on first and second. As fans heartily encouraged Justin Morneau, Veal ended the threat by fanning the slugger.
Trailing 1-0 after a Mauer solo home run over the right-center wall in the first inning, Dayan Viciedo roped a two-run grounder to center field in his first at-bat since returning to a starting role after nursing a sore left thumb. The hit drove in Dunn and Avisail Garcia.
Before Twins starter Kevin Correia could call it a night, the White Sox picked up a few more hits off him and a run in the eighth. With one out, Keppinger and Alexei Ramirez reached on back-to-back hits. Keppinger scored two batters laters on Trevor Plouffe's throwing error on Paul Konerko's grounder.
Correia left the game after 7 1/3 innings, giving up five runs (four earned) on nine hits and one walk. He also struck out three.
"I felt pretty good," Correia said. "When you're pitching against a team in back-to-back starts, you can't make too many mistakes or else they'll be on them. They scored the two runs after a couple hits and a groundball up the middle, and I just made a couple bad pitches for the two home runs. But it turned out better."
Kelly Erickson is an associate reporter for MLB.com. This story was not subject to the approval of Major League Baseball or its clubs.