Sveum weighs in on instant replay proposal
Sveum weighs in on instant replay proposal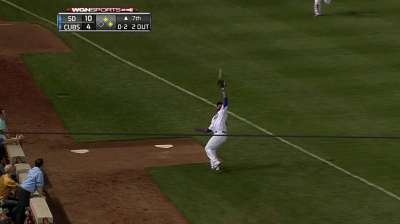 CHICAGO -- Cubs manager Dale Sveum is a big football fan, and next year, he may get to throw a challenge flag just like NFL coaches.
Major League Baseball announced Thursday it is proposing new instant replay rules, which will be initiated when a manager informs the umpire he wants to challenge a play. Managers will be allowed one challenge in the first six innings and two more from the seventh through the end of the game. Major League owners will formally vote on the issue in November.
"It'll be interesting to throw a flag from the dugout," Sveum said. "It'll be interesting how the process works, how quick you can get information to the dugouts. You can go on and on about when and how you're going to use it."
Sveum felt the toughest calls will be the close plays at first base.
"It's very difficult for the umpires to get a bang-bang play right consistently," Sveum said. "You're going to have to rely on your players a lot. They can't get caught up in the moment."
MLB predicts having more instant replay involved will speed up the game. Sveum was doubtful.
"I don't know how it can speed the game up," the manager said. "I think they can speed up the process. If somebody is up in the booth or back in New York, they can somehow relay it right away -- 'OK, there's the flag. OK, he's wrong. OK, that's it.' I don't know if that's going to happen.
"We all want that in the NFL. It seems we get the replay quick in the NFL, and then it's a process to get back on the field."
Sveum didn't see any negatives with the proposed new rules, and he understood why there would be one challenge early in the game and two later.
"You're getting to a point in the game in later innings when you want plays gotten right," he said. "Through the course of the game, all the plays are the same, because you're talking about killing a rally or starting a rally.
"However, you get it right is the main thing. Whether it makes sense to have two at the end, or spread out to have three, period. You don't know when your rally is going to happen."
Carrie Muskat is a reporter for MLB.com. She writes a blog, Muskat Ramblings, and you can follow her on Twitter @CarrieMuskat. This story was not subject to the approval of Major League Baseball or its clubs.