Wilson throws simulated game in latest step
Wilson throws simulated game in latest step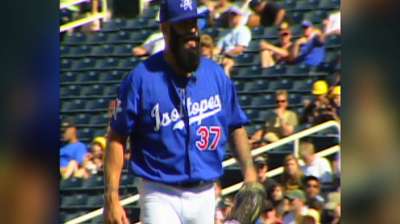 PHILADELPHIA -- Recovering reliever Brian Wilson threw a simulated game at Citizens Bank Park on Friday in a final test before the Dodgers activate him, perhaps on Sunday or Monday.
Manager Don Mattingly, who watched the workout with general manager Ned Colletti and a handful of staff, said he wanted to see how Wilson comes out of the session before saying when the right-hander will be activated.
Among other factors: the Dodgers' bullpen currently is deep and effective, and to make room for Wilson a difficult roster move will be required -- barring an injury.
Wilson showed more command than velocity in the simulated game. He made roughly 20 warmup pitches in the bullpen during early batting practice, then faced three hitters -- Dee Gordon, Matt Kemp and Nick Punto. The best-struck pitch was a fly ball by Gordon to the warning track in right field.
After resting for five minutes, Wilson went back to the mound to simulate the between-innings up and down and faced two more batters.
"He was OK," Mattingly said. "He was a lot of what we heard -- throwing where he wanted, using different pitches. He sat down for five to seven minutes, got up and looked even better.
"You don't know when you watch a sim game, you don't get velocity. What we've seen in games and him being able to bounce back tells us he has a healthy arm."
Wilson, a former All-Star closer, hasn't pitched in the Major Leagues since April 2012, when he underwent Tommy John elbow surgery for the second time in 10 years. He was non-tendered by the Giants last winter.
"Yeah, I'm ready," said Wilson. "I've pitched seven, eight times now and everything is good. It's a step, absolutely. It's nice to get back on a familiar mound."
Wilson wore uniform No. 00. No Dodger ever has.
"Every other number was taken," he said. "I figured there was no chance anybody took that."
Pitching coach Rick Honeycutt, special assistant Pat Corrales and several players also watched the workout. Although Wilson hasn't yet shown his past velocity, the Dodgers believe his experience under pressure will be an asset down the stretch.
Wilson was signed to join Ronald Belisario and Paco Rodriguez to pitch the seventh and eighth innings and get to closer Kenley Jansen.
Ken Gurnick is a reporter for MLB.com. This story was not subject to the approval of Major League Baseball or its clubs.