Big flies back Pettitte as Yanks roll Red Sox
Big flies back Pettitte as Yanks roll Red Sox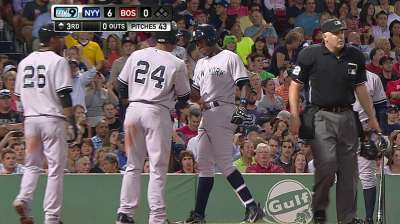 BOSTON -- The Yankees hardly resembled the Bronx Bombers during their last visit to Fenway Park, as they were unable to hit a single ball out of the facility's cozy dimensions. Thanks to some recent changes, that won't be the case this time around.
Alfonso Soriano continued his torrid stretch with yet another home run while Mark Reynolds cleared the Green Monster in his first Yankees at-bat, supporting an encouraging outing from Andy Pettitte in a 10-3 victory over the Red Sox on Friday.
"When you get guys hot like some of the guys are right now, you feel good about yourself," said Pettitte, who picked up his first victory since July 11. "Obviously winning ballgames makes you feel good about yourself. It's a good thing right now."
The Yankees won for the fifth time in six games as Reynolds and Soriano teamed for most of the damage against Boston starter Felix Doubront, who lasted just four innings and was battered for seven runs (six earned) on eight hits.
Soriano drove in four runs, including a three-run blast in the third inning. He reached base in all but one plate appearance and now has a Major League record-tying 18 RBIs in his past four games, going 13-for-18 with five homers.
"I'm trying to enjoy my time now here with the Yankees," said Soriano, who was re-acquired in a late July trade with the Cubs. "I think it's motivation; coming back to the Yankees to try to help the team to win. That's what is most important."
The Yankees are now just 7 1/2 games behind the Red Sox, the closest they've been to the division lead since July 29.
"I don't think anyone has written them off, by any means," Red Sox manager John Farrell said. "We've got nine more games remaining against them, they've got a completely different look to their lineup than we saw a month ago, and they've got a lot of life right now."
As much fun as manager Joe Girardi has had watching his team's offensive rebirth, the Yankees were even more pleased to see Pettitte work deep into a game.
The veteran lefty kept Boston off-balance into the seventh inning, permitting three runs -- all unearned -- on six hits. He walked one and struck out five in a 97-pitch effort, snapping a five-start winless streak.
"It was one of those nights where everything was working and you'd hope you'd be able to get through the game like I did," Pettitte said. "My curve was working, my two-seamer, I was locating that to both sides of the plate. My four-seamer also. [Chris Stewart ] called a great game and we scored a lot of runs."
Facing the prospect of missing the playoffs for what would be just the second time in the last 18 seasons, the Yankees may have also plucked a useful part off the free-agent market in Reynolds, who was added to the 25-man roster before Friday's game.
The veteran tormented the Yankees as a member of the Orioles in 2012, hitting seven of his 23 homers off New York pitching. Released by the Indians this week, Reynolds made an immediate impact for his new employer with a two-run homer in the second inning, feeling right at home in the Yankees-Red Sox rivalry.
"We battled these guys with the Orioles last year, but this is different," Reynolds said. "When you're on deck -- I mean, you can't repeat what the fans say to you, but it's just a different vibe, a different atmosphere, for sure."
Reynolds became the 14th Yankee since 1961 to homer in his first Bombers at-bat, and the first since Andruw Jones in 2011.
"He's a guy that can change a game really quickly," Girardi said. "We saw it against us last year, and it's nice to have him on our side."
Robinson Cano also had a fourth-inning RBI single, extending his hitting streak to 11 games and giving the Yankees a commanding 7-0 lead at the time, deflating the largest crowd seen at Fenway this year.
The 38,143 that passed through the turnstiles seemed to have their most fun jeering Alex Rodriguez, who went 2-for-4 with a walk and a run scored.
"We're in playoff baseball right now," Rodriguez said. "Every game means the world to us. We're trying to stay very focused and collective in here; stay very united no matter what's thrown at us. Our focus is to win games, and that's the only thing we care about right now. The reaction is pretty tame, usually."
Ichiro Suzuki moved to within five hits of 4,000 for his combined professional career in Major League Baseball and Japan with an RBI infield single in the ninth inning for the Yankees' eighth run.
Reynolds added an RBI single and Stewart plated Ichiro with his own RBI base hit to close New York's scoring in the ninth, where Joba Chamberlain wobbled and loaded the bases in mop-up duty before David Huff entered to record the final out.
"We needed it and we need to continue to do it," Pettitte said. "Hopefully we can continue to swing the bats the way we are and guys can feel good about themselves. Hopefully we'll reel off a whole lot of wins here over the next 40 games."
Bryan Hoch is a reporter for MLB.com. Follow him on Twitter @bryanhoch and read his MLBlog, Bombers Beat. This story was not subject to the approval of Major League Baseball or its clubs.