Doubront done in by homers as Sox fall to Yankees
Doubront done in by homers as Sox fall to Yankees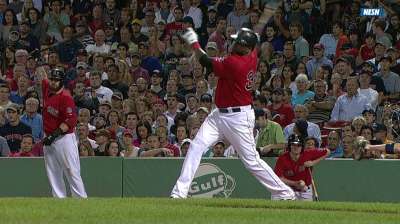 BOSTON -- The Red Sox haven't looked right for the last 10 days or so, and not even the adrenaline that accompanies a visit from the Yankees could change that on Friday night at Fenway Park.
Outplayed by the Yankees in all facets of the game, Boston suffered a 10-3 loss in the opener of a three-game series between the rivals.
At least judging from this one night, it was hard to believe the Red Sox were the team that has led the American League East for most of the season, while the fourth-place Yankees, even after this win, still trail by 7 1/2 games.
"They have great players. They're the New York Yankees," said Dustin Pedroia. "They figure out a way to play well. We have great players also. We'll figure out a way to do that."
Boston's lead in the division is down to just a game over the Rays.
"We're just not playing well," said David Ortiz. "We need to step up and try to win some games, you know? I guess it's just one of those funks that you walk into. We just need to get out of it."
Coming in, the Sox liked their chances with lefty Felix Doubront on the mound. All six of his previous career starts against the Yankees were quality starts.
But this one wasn't even close. The lefty was pounded for eight hits and seven runs (six earned) over four innings. He walked two, struck out four and finally saw his streak of starts giving up three earned runs or less end at 16.
"I feel like today, I was a little bit off with my mechanics, the release point of the ball," Doubront said. "My past outing was the same. I have to keep working on that."
Manager John Farrell's team has lost three in a row, and six of the last eight.
"We're very confident in our team," Farrell said. "We have a good team. And yet we're going to go through some peaks and valleys."
In this one, the Sox committed three errors and had three runners thrown out on the bases.
Alfonso Soriano, who has been hitting at a torrid pace after being re-acquired by the Yankees before the non-waiver Trade Deadline, went 3-for-4 with four RBIs. He is 13-for-18 with 18 RBIs and five homers in his last four games.
"It's fun. When we start winning, we start having fun," Soriano said. "This game is all about winning. When we're winning, we're having fun."
The Yankees controlled the game from the outset. An infield hit by Soriano off the glove of shortstop Stephen Drew made it a 1-0 game in the top of the first. The Fenway faithful did have one satisfying moment in that inning as Alex Rodriguez, who was booed lustily in his first at-bat in Boston this season, lined into a double play.
Mark Reynolds, taking his first at-bat as a Yankee, pummeled a two-run homer to left in the top of the second to make it 3-0.
Things worsened for Doubront in the third. Eduardo Nunez led off with a single, and Robinson Cano reached on an error by Drew. Up stepped Soriano, and he unloaded for a three-run homer to left.
"We weren't sharp tonight," Farrell said. "We set the tone right out of the gate with some mislocated pitches. Felix gets a good sinker, where he gets a ground ball to Stephen, and a big swing in the game. It goes from what you think is a tailor-made double play to the next hitter driving the ball out of the ballpark and we're down big at that point. This wasn't one of our more sharp efforts."
A triple by Brett Gardner and an RBI single by Cano made it 7-0 in favor of New York in the top of the fourth.
The Red Sox finally got a run against Andy Pettitte in the fourth on an RBI single by Jonny Gomes. But Gomes was then picked off first to end the inning.
There was a rally in the seventh, as Ortiz and Jarrod Saltalamacchia came through with RBI singles to slice the deficit to 7-3. But Mike Carp struck out to end the threat, and was ejected after slamming his helmet to the ground. Carp thought he had been hit by a pitch earlier in the at-bat, but home-plate umpire Bill Welke disagreed.
Another rally was thwarted in the eighth. With two on and one out, Ortiz hit a line drive that A-Rod snagged and fired to second to double off Shane Victorino.
The Yankees tacked on three runs in the ninth off lefty Drake Britton, with Ichiro Suzuki, Reynolds and Chris Stewart each tallying an RBI single.
"We're just trying to show up and win games," Pedroia said. "Sometimes we don't. They swung the bats well tonight. Tomorrow, we'll get after it."
Ian Browne is a reporter for MLB.com. Read his blog, Brownie Points, and follow him on Twitter @IanMBrowne. This story was not subject to the approval of Major League Baseball or its clubs.