Duffy cages mighty Tigers; KC takes Game 1
Duffy cages mighty Tigers; KC takes Game 1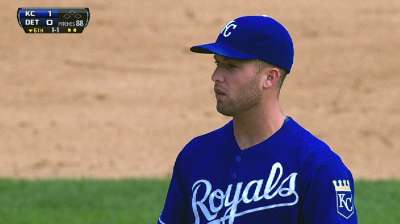 DETROIT -- How's this for a startling development?
Royals left-hander Danny Duffy, still working his way back from Tommy John surgery, had a no-hitter going for 5 2/3 innings and wound up beating Justin Verlander and the Tigers, 2-1, in the first half of Friday's day-night doubleheader.
"He's handed me four of my losses in my career, and that was in the back of my mind, too," Duffy said. "So it was definitely nice. It was a huge one for us."
Kansas City, trying to catch first-place Detroit, snapped a three-game skid.
Duffy gave up one hit in the sixth inning and was pulled after making 96 pitches, but he notched his first victory since May 3, 2012, against the Yankees. A little over a month later, he underwent reconstructive elbow surgery and missed more than a year.
Duffy was summoned from Triple-A Omaha as the 26th player allowed on the day of a doubleheader. He proved to be an extra who was special, but now he'll go back to the Storm Chasers.
"Right now, the rest of our starters are doing pretty good, too, so we've got two weeks until September and the rosters expand," manager Ned Yost said. "We'll let him go down and get another start or two, and come back up and help us in September."
Verlander has a 15-4 career record against the Royals, but he has not beaten them in four starts this year. The Tigers have lost all four of those games and Verlander has absorbed two of the losses.
Eric Hosmer had hit .200 against Verlander over 30 at-bats in his relatively brief career, and not one of his six hits had left the ballpark. That changed in the fourth inning, when Hosmer led off with a home run into the left-field seats.
"I've had enough chances," Hosmer said with a chuckle.
Hosmer drilled a 1-1 curveball into the seats.
"You don't see hanging curveballs hit to opposite field too often. That was pretty impressive," Verlander said. "It wasn't even a question about it getting out. I didn't even watch it. Strong kid."
That was all the Royals could muster until the seventh inning, when back-to-back doubles by Justin Maxwell and Emilio Bonifacio produced another run for a 2-0 lead. Maxwell led off the inning with a double that went to the left-field wall. Bonifacio, after failing to bunt, lined a ball down the right-field line that rolled under a pad. Right fielder Torii Hunter, a shrewd veteran, threw up his arms to show the umpires the ball was stuck. Sure enough, crew chief John Hirschbeck ruled a ground-rule double and waved Bonifacio, who'd rambled to home plate, back to second base.
But what would prove to be the winning run was home.
"Bonifacio [came up] with a huge, huge insurance run," Hosmer said. "It was big to get that extra run with the bullpen coming in."
Kelvin Herrera worked a perfect seventh inning of relief, but Aaron Crow wasn't so tidy in the eighth. Pinch-hitter Ramon Santiago led off the inning by hammering Crow's 0-2 pitch into the right-field seats for his first homer this season. Then Crow retired the next three batters.
Closer Greg Holland opened the ninth by striking out Miguel Cabrera on a checked swing and walking Prince Fielder. But he got Victor Martinez to ground into a game-ending double play, picking up his 33rd save.
And the victory was in the books for Duffy, who had held the American League's best-hitting team without a hit for the first five innings. He was making just his second big league start since his left elbow was repaired, and his only flaws were three walks and one hit batter.
"I made some good pitches today, but when I didn't, the guys had my back," Duffy said. "They hit some seeds out there and [Jarrod] Dyson was running track out there in center field. He made some great plays, and I'm really lucky to have the defense behind me that I do."
After Duffy got two outs in the sixth, Detroit's first hit came from -- who else? -- the Majors' leading hitter, Cabrera. His hot smash glanced off the glove of diving Bonifacio at third base and bounded into left field for a single. But Duffy maintained the 1-0 lead by getting Fielder to ground out.
That put Duffy up to just four pitches shy of 100, and Yost decided that was enough -- even if the no-hitter had still been intact.
"Done, done," Yost said. "Look, we're in the sixth inning. Even if he doesn't give up a hit in the sixth, he doesn't have enough pitches to go seven, eight, nine, so what difference does it make? Why send him back out for the seventh? He was at his pitch limit, and that was it."
Was Duffy thinking no-hitter?
"Oh, no. Naw," Duffy said. "I was glad that they finally got one, honestly, because I could just kind of pitch. ... I knew even if there was no hits up there, I was going to come out in the seventh or the eighth at the latest. I've got to protect this arm. It's been a long rehab and I don't want to do it again."
Duffy's successful return certainly caught the attention of Tigers manager Jim Leyland.
"He's electric. His 95 is different from somebody else's 95. It kind of gains a little momentum and has some late life to it. He's really good," Leyland said.
"Their rotation is night-and-day different with [Ervin] Santana and [James] Shields. And if they get Duffy back, you're talking about lights-out."
For a little while at least, Duffy will be doing his pitching for Omaha.
"I've just got to do what I've got to do," he said. "I'm just going to keep doing what I can to help this team any way I can, and whatever happens, happens."
Dick Kaegel is a reporter for MLB.com. This story was not subject to the approval of Major League Baseball or its clubs.