Verlander's mistakes costly in twin-bill opener
Verlander's mistakes costly in twin-bill opener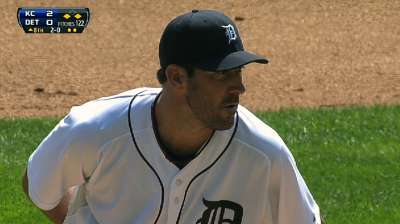 DETROIT -- Justin Verlander has dominated the Royals throughout his career, and he was tough to hit again on Friday afternoon. However, Danny Duffy was even tougher, as he one-hit the Tigers through six innings in Detroit's 2-1 loss in the first game of Friday's day-night doubleheader at Comerica Park.
The loss ended the Tigers' 10-game winning streak at home and decreased their lead in the American League Central to six games over the Indians and 7 1/2 games over the Royals.
Duffy had a no-hit bid through 5 2/3 innings before Miguel Cabrera's infield single ricocheted off Kansas City third baseman Emilio Bonifacio's glove into shallow left field.
Duffy was making only his second Major League start of the season after undergoing Tommy John surgery last year. He walked three and hit a batter in the first three innings, but settled down to pitch six scoreless frames.
"He's special when he throws it over the plate -- especially when he gets his curveball or something offspeed on the plate, which he did some of that today," manager Jim Leyland said. "He's got one of those electric fastballs that hits 97 mph, but it's a different 97 mph than some of the other ones."
Meanwhile, Verlander was sharp, with his curveball dropping in for strikes and his fastball topping out at 98 mph. He struck out six in eight innings while walking two and allowing seven hits. Verlander has allowed two runs or fewer in three of his past four starts while striking out at least six in each of them.
"I feel that my stuff has been better, specifically my breaking ball," Verlander said. "I'm definitely happy where I'm heading going into the last month of the year and hopefully the postseason."
The Royals were able to capitalize on Verlander's few mistakes, with a solo home run by Eric Hosmer in the fourth inning and back-to-back doubles by Justin Maxwell and Bonifacio in the seventh.
For Duffy, Friday's game offered him a chance at some revenge against Verlander.
"He's handed me four of my losses in my career, and that was in the back of my mind, too," Duffy said. "So it was definitely nice. It was a huge one for us."
Detroit's offense finally struck against Kansas City reliever Aaron Crow with a pinch-hit home run in the eighth inning by Ramon Santiago, his first home run since June 9, 2012, to cut the lead to 2-1.
"You just have to look for a good pitch to hit and try to get a base hit and get on base for the other guy," Santiago said. "I got a curveball there, put a good swing and hit it out."
In the ninth, Royals closer Greg Holland faced the heart of the Tigers' order. He struck out Cabrera, walked Prince Fielder and then was able to get Victor Martinez to ground into a game-ending double play.
"That's Major League pitching at its best, really," Leyland said. "The kid Duffy was tremendous. Right off the bat, it looked like he might be a little bit long, but he settled in and really had great stuff. And of course we know about their bullpen, and I thought JV was terrific."
Despite the loss, Verlander helped save Detroit's bullpen for the second game of the doubleheader. With closer Joaquin Benoit and reliever Bruce Rondon likely unavailable for both games on Friday, the Tigers couldn't afford to go into their bullpen early.
Though Verlander earned the consolation prize, that doesn't mean he has to be happy about it.
"You like to go eight [innings] and you like to preserve your bullpen and yada, yada, yada, but I like to win," Verlander said. "This is a pitchers' duel, it's tough, but you want to be on the winning side of those."
Bobby Nightengale is an associate reporter for MLB.com. This story was not subject to the approval of Major League Baseball or its clubs.