Tigers' bats stay ice cold in nightcap loss to KC
Tigers' bats stay ice cold in nightcap loss to KC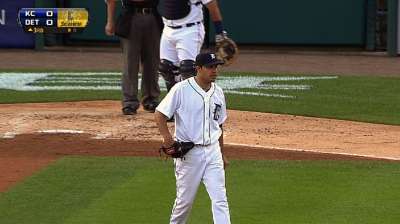 DETROIT -- The last time the Tigers hosted the Royals for a doubleheader, they gave up 26 runs in the first game. That was in 2004. In that sense, Friday was an improvement.
That 2004 team, though, scored eight runs in the second game to salvage a split. On Friday, the Tigers never led at any point in either contest.
Kansas City didn't outslug Detroit. It outpitched the American League's best staff on a day when Tigers pitchers gave up five runs total. As a result, a Tigers team that had won 10 in a row at Comerica Park lost two on the same day.
"This is simple: We just didn't muster up enough offensively in either game," manager Jim Leyland said after a 3-0 shutout loss to the Royals that finished off a doubleheader sweep.
It wasn't a statement meant for shock value. Before the Tigers ran off a 12-game winning streak earlier this month, they had games like this. They didn't sound floored that they had two more, especially with James Shields on the mound for the nightcap.
Instead, the atmosphere in the clubhouse after the games was about as quiet as the offense during them.
"It happens sometimes," outfielder Austin Jackson said. "They've got a good pitching staff. You've got to give them credit."
Or as catcher Brayan Pena put it: "Sometimes it goes their way. Those guys, they drive Mercedes and nice cars, too."
Maybe so, but the Royals never allowed the Tigers' offense out of the garage. The atmosphere in the Royals' clubhouse, in turn, was vastly different.
"It was a huge day for us today," said Eric Hosmer, who homered in each game, including a two-run shot in Game 2, to outscore Detroit on his own.
The Tigers, who lost a 2-1 decision in the opener, hadn't been held to a lone run in a doubleheader in a dozen years. The White Sox held them to a Shane Halter RBI single over two games in a doubleheader sweep in Chicago on Sept. 4, 2001.
Detroit's lineups that day included Wendell Magee in center field in the opener, Randall Simon batting cleanup in the second game, Jose Macias batting second in both games, Halter batting fifth and sixth, Robert Fick as the designated hitter, Chris Wakeland in right field and Brandon Inge at catcher.
Friday's lineups had Torii Hunter, Miguel Cabrera, Prince Fielder and Victor Martinez in the middle of the order. Yet Ramon Santiago's first career pinch-hit homer, an eighth-inning leadoff shot off Aaron Crow in the opener, was the Tigers' lone tally.
Shields and Game 1 starter Danny Duffy threw 13 scoreless innings combined on four hits. They held Detroit's 3-4-5 hitters, all of whom played both games, to two hits combined, both of them from Miguel Cabrera. Moreover, Shields retired Cabrera, Fielder and Martinez in order with two on and no outs in the third inning of the nightcap.
Shields (8-8) stranded runners in scoring position in each of his first three innings, then allowed just a walk and a hit batter over his final 17 hitters.
"That was a huge momentum shifter," Shields said. "Those are three of the best hitters in the big leagues and if you get out of situations like that, you're going to have a good night."
The Tigers knew they could have a hard time with Shields, who has held Detroit to three runs or fewer four times this year. Duffy was the wild card Friday. They hadn't seen him in 16 months since he underwent Tommy John surgery last year. In just his second start back in the big leagues, Duffy held the Tigers hitless until his sixth and final inning.
"Their rotation is night-and-day different with [Ervin] Santana and Shields," Leyland said between games. "And if they get Duffy back, you're talking about lights-out."
Once Duffy outpitched Justin Verlander, the pressure was on Jose Alvarez to give Detroit a chance in the nightcap. Hosmer's tape-measure drive deep into the right-field seats off a hanging changeup was Alvarez's only scoring damage before he left in the sixth.
That came mere hours after Hosmer sent a Verlander curveball out to the opposite field to open the scoring in the day game. He became the first Royal to homer in both games of a doubleheader since Dean Palmer in 1998, the year before Palmer became a Tiger.
"I think this kid has got a chance to be a great player," Leyland said. "And it looks to me right now that he's swinging the bat as good as anybody they've got."
Santiago was the closest Detroit could come to that, though Cabrera and Fielder both hit line drives deep to left in the nightcap.
The total impact was the second doubleheader sweep of the Tigers at Comerica Park in as many years. The Twins swept them in a twin bill with a week and a half to go last season, costing them a chance to take over first place in the division. Detroit went on to win eight of its last 10 games and take the AL Central title.
Friday doesn't have nearly the same immediate impact, not with a month and a half left in the season and Detroit still on top. However, it vaults the Royals back into the race, knocking two games off their deficit to climb to 6 1/2 games back in the standings.
It also made a compelling argument that the Royals have the pitching to stick. With two more games left this series, they have the chance to do more.
"We just have to turn the page," Santiago said. "Tomorrow's another day."
Jason Beck is a reporter for MLB.com. Read Beck's Blog and follow him on Twitter @beckjason. This story was not subject to the approval of Major League Baseball or its clubs.