Royals replay: Shields, Hoz power DH sweep
Royals replay: Shields, Hoz power DH sweep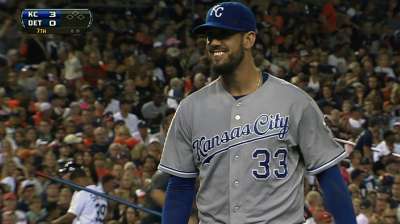 DETROIT -- Now this is twice as good.
The Royals, after losing the opener of their crucial five-game series against Detroit, bounced back in a doubleheader on Friday and completed a sweep as James Shields engineered a 3-0 victory over the Tigers in the nightcap. The Royals won the afternoon game, 2-1.
And if you're counting, that's a total of one run in two games against a Detroit team that was leading the American League in scoring and batting average.
"It was a great day's work by our pitching staff -- everybody, from our bullpen guys to our starters," manager Ned Yost said. "You play 18 innings against a team like that and give up one run, somebody's doing something pretty special out on that mound."
Shields pitched seven shutout innings and Eric Hosmer belted his second home run of the day to disappoint most of the 40,980 fans who packed Comerica Park on a fine 76-degree evening.
The double victory pulled the Royals back to 6½ games behind the first-place Tigers in the American League Central. They were 4½ out in the Wild Card race pending Oakland's outcome on the West Coast.
Hosmer unloaded his 14th homer in the third inning to put the Royals ahead, 2-0. Tigers starter Jose Alvarez, called up from the Toledo Mud Hens for the occasion, issued a two-out walk to Jamey Carroll. Hosmer sent a 1-1 changeup soaring deep into the right-field seats.
"I think this kid has got a chance to be a great player," Tigers manager Jim Leyland said. "And it looks to me right now that he's swinging the bat as good as anybody they've got. I don't really feel comfortable walking him to get to Billy Butler, but if you watched him swinging these two games, I thought he was probably swinging the best on the club -- not only a threat to get a base hit, but to hit a home run. And he got two today."
Almost immediately, however, Shields slipped into the danger zone. In the bottom of the third, he walked leadoff man Austin Jackson and gave up a single to Torii Hunter. At least he had a two-run lead to comfort him.
"That's huge, especially with their lineup and who was up -- you had Miggy [Cabrera] and you have [Prince] Fielder right behind him and Victor [Martinez]," Shields said. "Those are three of the best hitters in the big leagues and if you get out of situations like that, you're going to have a good night."
That's exactly what Shields did.
Cabrera, who leads the solar system in hitting, tapped back to Shields while the runners moved up. But, with the potential tying runs in scoring position, Shields got Fielder and Martinez to fly out harmlessly.
"That's one of the biggest innings in baseball -- when you score and you shut the other team down the next inning," Hosmer said. "With Shields on the mound with a lead like that, it's a comfortable feeling."
Those three outs started Shields on a roll; he retired 15 of 17 batters, allowing just a hit batter and a walk until he bowed out. He gave up just three hits along with four walks and, oddly enough, had just one strikeout.
That marked the first time that Shields had gone seven or more innings with just one strikeout since way back on Aug. 31, 2008, when he beat Baltimore, 10-4, for Tampa Bay.
"But this is a good-hitting team and they're not going to strike out that much," Shields said. "I think that one inning [the third] when I had Miggy up with first and second and no outs, that was a huge momentum shifter."
The Royals breathed a lot easier when they added an insurance run in the seventh, courtesy of reliever Jeremy Bonderman. Chris Getz led off with a looping single to center and, when Bonderman threw past first base on a pickoff try, Getz advanced to third on the error.
Carroll's line-drive sacrifice fly to left field was just deep enough to get Getz home safely.
The Royals turned to reliever Luke Hochevar in the eighth and he delivered a perfect inning, retiring Hunter, Cabrera and Fielder. If the Royals had added a fourth run in the ninth, Hochevar would have returned to pitch the ninth.
But they didn't, a save situation was in order and Yost waved in closer Greg Holland, who had also saved the first game.
"You always worry about him, but he had a pretty quick first game," Yost said. "And then his first pitch was 97 [mph] and that's when I just sat back and said he's going to be fine."
Fine although not perfect. Martinez opened the Tigers' ninth with a single, but Andy Dirks looked at strike three and Brayan Pena rapped into a double play. It was Holland's second save of the day and his 34th this season, including the last 27 in succession.
Game over, a sweep and the one run allowed by the Royals was the fewest in a two-game day since Aug. 13, 1991, when they swept the Yankees in New York, 5-0 and 8-1.
"This was a big day for us," Yost said. "We wanted to come in here and compete with these guys. I thought we did it last night even though we didn't win and I thought we did it to a real good degree this afternoon and tonight."
The Royals lost Thursday night's opener, 4-1.
"We had a tough loss yesterday and to come back and win two, I think shows a lot of character in our team," Shields said. "We're not quitters, we're never going to quit, we're going to fight to the end."
Dick Kaegel is a reporter for MLB.com. This story was not subject to the approval of Major League Baseball or its clubs.