Brewers lose duel, Gomez against Reds
Brewers lose duel, Gomez against Reds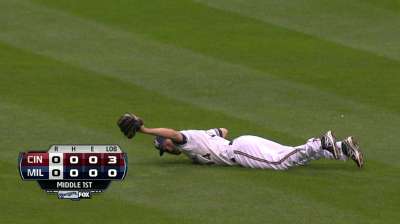 MILWAUKEE -- A 2-1 loss to the Reds was second on the Brewers' list of concerns late Thursday.
Joey Votto hit a go-ahead home run for the Reds in the sixth inning, left-hander Tony Cingrani pitched into the seventh and Aroldis Chapman slammed the door in the ninth, but the Brewers were mostly worried about the health of their All-Star center fielder. Carlos Gomez left the game in the fourth inning with a right knee sprain after crashing into the wall and was scheduled for an MRI exam on Friday morning.
"You cross your fingers and hope for the best with him," said losing pitcher Kyle Lohse. "It kind of sums up the way things have been going, but nobody feels sorry for us. We have to keep going out there and trying to play these games. These guys we're playing [the Reds] are in the hunt for the playoffs, and we take a little pride in hurting their chances. That's all we can do."
The Reds instead improved their chances despite Lohse's seventh quality start in his last nine outings, a 458-foot home run for young outfielder Khris Davis in the second inning and Gomez's terrific catch in the fourth, which robbed the Reds' Brandon Phillips of a hit.
Gomez landed awkwardly as he crashed into the wall, then left the game. An inning later, he was already scheduled for an MRI.
A Brewers official made that announcement just as the Reds were working to tie the game against Lohse. Catcher Devin Mesoraco reached second on an infield hit plus a tough error charged to second baseman Jeff Bianchi, who had ranged up the middle and made a cross-body, one-hop throw to first base that pulled Juan Francisco up the baseline. When Mesoraco collided with Francisco, the baseball rolled away long enough for the runner to rise to his feet and scamper to second.
The next batter was Zack Cozart, who grounded a single to Gomez's replacement, Logan Schafer, who made a strong, one-hop throw home that got away from catcher Jonathan Lucroy just as Mesoraco scored a run that tied the game at 1.
"It was weird," Lohse said of the play at first base that began the Reds' rally. "It caught me off guard because I was trying to figure out what happened, and I should have been going over there to get the ball. That was as much my fault as anybody's."
"He was a good cushion," Mesoraco said of Francisco. "I didn't fall down and hit the dirt or anything. It was just a weird play. He was still trying to get the out and stretching right down the baseline, so there was just nothing I could've done."
In the sixth, Votto connected with a 2-0 pitch for the home run that made a winner of Cingrani, who allowed only one run on four hits in 6 1/3 innings, with one walk, nine strikeouts and some help escaping the seventh inning from Schafer, who fouled out on a bunt attempt, and Reds reliever Sam LeCure, who induced an inning-ending double play from Davis. Manny Parra and Jonathan Broxton combined to pitch the eighth, and Chapman worked around a Norichika Aoki single to record his 30th save in the ninth.
Votto's 18th home run this season was the first by a batter against Lohse in four starts, since the third inning of his win against the Padres on July 24. He was a tough-luck loser on Thursday after allowing two Reds runs, one earned, on four walks and four strikeouts.
Three of the walks came in the first inning, though one was intentional. Lohse escaped damage that inning when Bianchi made a nice diving catch in shallow center field.
"It was one of those days where you have to battle for every out you get," Lohse said.
The Votto homer came on a changeup, Lohse said, "And it wasn't a very good one. I didn't quite get the grip and I tried to throw it down and away, and it didn't have any life on it. It was an OK location, I think, but it wasn't the pitch I wanted to throw right there."
"It was a very well-pitched game on both sides," Mesoraco said. "Lohse, he doesn't give you a whole lot to hit. He keeps the ball down, hits the corners, changes speeds. He's tough. Joey was able to get one up in the air, and that was the difference in the game."
Adam McCalvy is a reporter for MLB.com. Read his blog, Brew Beat, and follow him on Twitter at @AdamMcCalvy. This story was not subject to the approval of Major League Baseball or its clubs.