Votto backs Cingrani as Reds win fifth straight
Votto backs Cingrani as Reds win fifth straight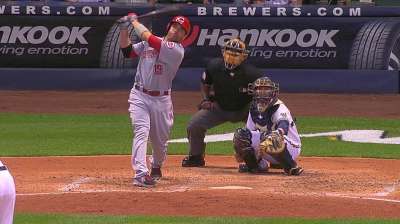 MILWAUKEE -- With the roll the Reds are on, it doesn't matter who they are facing. On Thursday, the victim was Brewers starter Kyle Lohse, who had not lost a game in over a month.
But Tony Cingrani matched Lohse pitch for pitch, Joey Votto launched a go-ahead solo home run and Devin Mesoraco did all the little things to lift the Reds to a 2-1 win over the Brewers in the opener of a four-game set at Miller Park.
With the win, the Reds have reeled off five straight and eight of nine, and they pulled to within 2 1/2 games of the National League Central-leading Pirates, who fell to the second-place Cardinals in a 12-inning affair earlier in the day.
"It was a very well-pitched game on both sides," Mesoraco said. "Lohse, he doesn't give you a whole lot to hit. He keeps the ball down, hits the corners, changes speeds. He's tough. Joey was able to get one up in the air, and that was the difference in the game."
Cingrani and four Cincinnati relievers made Votto's sixth-inning tiebreaking home run hold up for a low-scoring win in a run-scoring ballpark.
At the time, Reds manager Dusty Baker didn't think there was any way Votto's homer would be the game-winner.
"You'd never think that at the time, especially in this ballpark, because these guys can hit," said Baker, whose team improved its record to 49-22 against sub-.500 opponents this season. "We played well and we pick up a game."
Starting pitching remained the constant for the streaking Reds, as Cingrani baffled the Brewers over 6 1/3 innings, allowing one earned run on four hits, while walking one and striking out nine. The left-hander retired 16 of the first 18 batters he faced, and finished with 95 pitches, 66 for strikes.
Cingrani -- in his first full season with the Reds -- said he learned from his first two outings against the Brewers this season, using the high fastball to record many of his strikes.
"They swung at it the last two times I faced them, and they kept swinging at it, so I kept throwing it there," said Cingrani.
Khris Davis made the only mark on Cingrani's day with a second-inning home run, a 458-foot shot below the slide in left field to put the Brewers up 1-0. Cingrani retired 11 of the next 12 hitters, though, and the only one to reach base -- Jeff Bianchi in the third inning -- was picked off almost immediately.
The Reds tied the game in the fifth inning with back-to-back hits off Lohse. Mesoraco led off the inning with a single and took second base after colliding with Brewers first baseman Juan Francisco. Bianchi was charged with an error after the ball ended up in shallow right field.
Mesoraco landed on top of Francisco and took off for second when first-base coach Billy Hatcher made him aware of where the ball was.
"[Francisco] was a good cushion. I didn't fall down and hit the dirt or anything," Mesoraco said. "It was just a weird play. He was still trying to get the out and stretching right down the baseline, so there was just nothing I could've done."
Zack Cozart made the Brewers' unfortunate bounce sting with a groundball single to center field on the next pitch, scoring Mesoraco from second. Brewers catcher Jonathan Lucroy may have had a play at the plate, but he bobbled a one-hop throw from center fielder Logan Schafer. Schafer took over in center after Carlos Gomez left with a right knee injury on a fourth-inning catch at the wall.
"I think the ball beat me, but in that situation, with the pitcher on deck, you've got to take a chance," Mesoraco said. "I was pretty well-gassed after all that running. Going to first, going to second and then Cozart swung at the first pitch, I hadn't even caught my breath and I was already running home. I think he would've had me, but it was kind of an in-between hop and it came up on him. I think we were lucky there."
Votto led off the next inning with his 18th home run, a 2-0 shot to right-center field that put the Reds on top for good. It was the first home run against Lohse in four starts.
The Votto homer came on a changeup, Lohse said, "And it wasn't a very good one. I didn't quite get the grip and I tried to throw it down and away, and it didn't have any life on it. It was an OK location, I think, but it wasn't the pitch I wanted to throw right there.
"It was one of those days where you have to battle for every out you get."
The Brewers threatened to pull even in the seventh inning, but after Lucroy led off with a single and Aramis Ramirez walked, Cingrani got Schafer to pop up a bunt attempt straight back in foul territory. Mesoraco made a quick read on the low popup and slid to make the catch just before the wall behind home plate.
"A lot of action [today]," Mesoraco said. "Sometimes there ain't quite as much action, but today I seemed to be involved in a whole lot of things."
Right-handed reliever Sam LeCure then came in to face Davis, who grounded into an inning-ending double play back to the pitcher.
LeCure, Manny Parra, Jonathan Broxton and Aroldis Chapman combined for 2 2/3 scoreless innings to shut the door on the Brewers. Chapman pitched the ninth -- and hit 102 mph on the Miller Park radar gun -- for his 30th save.
Lohse's line finished at seven innings, allowing two runs (one earned) on five hits. The righty walked four and struck out four, and threw 101 pitches, 61 for strikes.
Kevin Massoth is an associate reporter for MLB.com. This story was not subject to the approval of Major League Baseball or its clubs.