Hawkins feeling effects of comebacker
Hawkins feeling effects of comebacker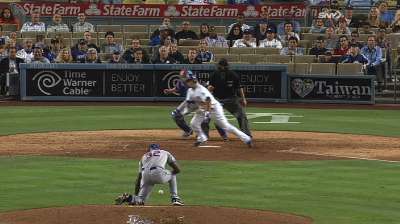 SAN DIEGO -- A day after taking a comebacker off his groin, Mets reliever LaTroy Hawkins did not expect to be available for Thursday's series opener against the Padres.
"He's felt better," manager Terry Collins said with a smirk.
Hawkins, who allowed a game-tying homer to the Dodgers' Andre Ethier in the ninth inning on Wednesday after Jerry Hairston Jr.'s groundout struck him squarely, planned to play catch to see how he felt. But the Mets' interim closer was walking around the clubhouse gingerly during the late afternoon, and did not expect to appear in the game.
"It seemed like the bus driver hit every bump he could find," Hawkins said of his trip from Los Angeles to San Diego. "I iced all the way."
With Hawkins likely unavailable, Collins planned to turn either to David Aardsma or Gonzalez Germen if the Mets have a lead in the ninth.
Ever since Bobby Parnell landed on the disabled list earlier this month, those duties have fallen largely onto the shoulders of Hawkins, who converted three straight saves before Wednesday's hiccup. Collins took some heat after the game for not removing the right-hander at the time, considering Hawkins' postgame revelation that he could barely walk.
"He didn't say that to me," Collins said. "When he threw the pitches warming up, I said, 'Are you OK?' He said, 'Yeah,' and I left the field."
If it was a lesson learned, it was the only one. Hawkins, who has never worn a protective cup in his 20-year career, said he did not plan to start using one now. Nor did he have any designs on watching a replay of the comebacker.
"I've got it right here," he said of the memory. "I don't need to see a replay. I know where it got me.
"It got me dead-on, but it's not the end of the world. I won't be wearing a cup. It's not going to happen. I haven't worn one in 20 years -- I'm not going to wear one now. Me and my wife are done having kids, so we're good."
Anthony DiComo is a reporter for MLB.com. Follow him on Twitter @AnthonyDicomo. This story was not subject to the approval of Major League Baseball or its clubs.