Beckham pulled in fourth with right quad strain
Beckham pulled in fourth with right quad strain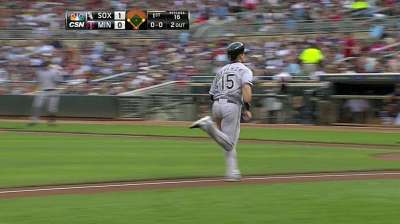 MINNEAPOLIS -- Second baseman Gordon Beckham left Thursday night's series opener with the Twins early due to a right quadriceps strain.
After going 1-for-2 at the plate through 3 1/2 innings, Beckham was taken out of the game after the top of the fourth as a precautionary measure.
"It just wasn't feeling good on his quad," manager Robin Ventura said. "We got him out of there a little early. He said it's been there for a little while. He said it only hurts when he runs really hard."
Beckham said it's been something he's been dealing with for a while, but just playing through.
"When I was up the second time, I ran the ball out," Beckham said. "I think that they noticed me limping a little bit. I think it just showed up tonight more than it had in the past."
Beckham's lone hit of the game came in the White Sox three-hit, two-run first inning. Beckham scored a run on a Paul Konerko sacrifice fly to right to give Chicago a 2-0 lead.
Ventura noted that Beckham will probably rest for a few days, just to be sure, but the second baseman said he'd rather just keep playing through it.
"What I felt tonight, I've felt other games," Beckham said. "Maybe it was a little worse, I don't know. It's been something that's just been kind of off and on that I've just been playing through. ... It's just sometimes when I get up to full speed, I definitely feel it."
Kelly Erickson is an associate reporter for MLB.com. This story was not subject to the approval of Major League Baseball or its clubs.