Reds have mixed emotions on expanded replay
Reds have mixed emotions on expanded replay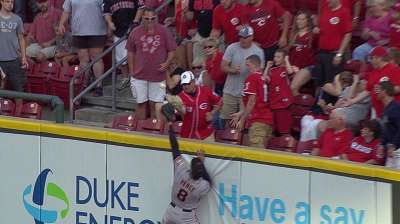 MILWAUKEE -- Major League Baseball announced on Thursday its plans to expand instant replay in 2014, and the Reds' clubhouse opened up its opinions on the matter before Thursday's series opener against the Brewers at Miller Park.
The proposal -- which would allow one challenge from a manager in the first six innings and two more from the seventh inning on -- will be formally voted on by the owners during meetings in Orlando, Fla., in November, and it would dramatically increase the number of reviewable plays in baseball next season.
Reds left fielder Ryan Ludwick sees the rule change as something that may get in the way of the beauty of the game.
"Personally, I'm kind of an old-school approach guy," Ludwick said. "I kind of like the fact that we were one of the last sports that had human error involved, and I think there's something beautiful about that.
"I think the better question would be for the umpires. From my standpoint -- I don't know how they feel -- it's kind of taking away from what they do. They've been doing this for over 100 years, and I think those guys do a good job. Do they make some mistakes? Yes, but like I said, that's human error, and I think that's the beauty of it. But I'm sure we'll all get used to it and we'll move on."
Reds manager Dusty Baker echoed Ludwick's concern for what the rule change means to umpires.
"There's a chance to make umpires look bad on a daily basis," Baker said. "But they're going to do what they're going to do."
Starting pitcher Bronson Arroyo compared the current situation to the January rule change of the fake-to-third, throw-to-first pickoff move. The move -- a part of most pitchers' pickoff repertoire -- was changed to a balk.
"Them just pulling the first-to-third move out was a little strange," Arroyo said. "You could go back to 1919 and watch the White Sox play and realize that they're playing pretty much the exact same game we're playing today, which is on some level really cool, because the history of the game stays intact and stats stay intact as far as comparing guys from different generations."
But Arroyo said he saw the reasoning for expanding replay, too.
"You've also got to think about technology," he said. "Watching a tennis match now where they call balls in and out based on a laser computer system, which is cool because you get to see that kind of cool thing. I think everyone wants a person who genuinely won the game to win the game. It's a mixed emotion for sure."
To Ludwick, only time will tell how the rule change will be accepted across the league.
"Those are all things we're going to have to find out in the future," Ludwick said. "I think you'll have to ask each individual guy how they feel about it. Do I think it could possibly help the game? Yes. Do I think it's going to take away from the history aspect of the game? Yeah, I think it'll take away a little from it."
Arroyo said it could be ancient history before too long.
"Nobody's done the first-to-third move in so long that now we're talking about it on Jeopardy as trivia."
Kevin Massoth is an associate reporter for MLB.com. This story was not subject to the approval of Major League Baseball or its clubs.