Reds' second-half surge part of Baker's plan
Reds' second-half surge part of Baker's plan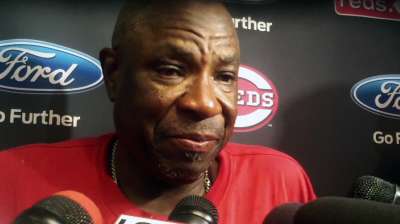 MILWAUKEE -- Reds manager Dusty Baker said Thursday that his game plan all along has been to pace his team for a second-half playoff push. The Reds have already started to make their move in the last week.
Cincinnati trailed National League Central leader Pittsburgh by 6 1/2 games last Wednesday but cut the deficit to 3 1/2 games entering play Thursday. The Pirates fell to the second-place Cardinals in extra innings on Thursday afternoon.
"Most of my teams finish strong," Baker said. "I think it's how you take care of yourself, how you condition, how you pace your team during the course of the year for the race. You watch horse racing, you watch a marathon, very rarely there's a team that gets way out front and sustains that."
Reds first baseman Joey Votto credited Cincinnati's current streak to stellar starting pitching. In the last six games, Reds starters are 3-1 with a 1.34 ERA (40 1/3 innings pitched, six earned runs allowed). "I think we've had some fantastic pitching," Votto said. "Some great starts, consistently great starts, and we've been playing good defense. But I think it's mostly because of the starting pitching."
When asked about his team's solid record against under-.500 teams and less than impressive mark against over-.500 teams, Baker noted the only goal by the end of the season is to have more wins than anybody else.
"At the end of the year, all they ask is what's your record," Baker said. "I was always told, you're supposed to beat the bad teams. You're supposed to beat the bad teams and split with the good teams."
Kevin Massoth is an associate reporter for MLB.com. This story was not subject to the approval of Major League Baseball or its clubs.