Francisco's power impressing Brewers
Francisco's power impressing Brewers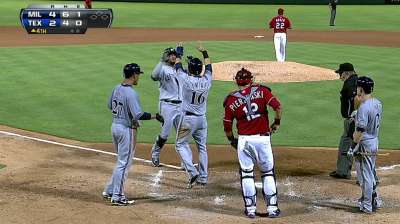 MILWAUKEE -- The Brewers still have questions about Juan Francisco's ability to play first base over a full season, but there is no doubting his tremendous raw power.
From June 3, when the Brewers acquired him from Atlanta, through Wednesday, only four National League sluggers hit more home runs than Francisco's 12: The Pirates' Pedro Alvarez (18), the Reds' Jay Bruce and the D-backs Paul Goldschmidt with 16 apiece, and Washington's Jayson Werth (13).
Before the trade, Francisco was a third baseman. The Brewers are looking at him as a candidate to begin next season at first.
"We need to see enough of him to know if he is an option," manager Ron Roenicke said. "We'll see whether Corey Hart is brought back, whether Hunter Morris comes up and is your young guy. But you need to have an option -- we found out you need to have more than one option."
Hart did not play at all this season because of multiple knee surgeries, and is a free agent this fall. The Brewers also lost Mat Gamel (knee) and Taylor Green (hip) to season-ending surgeries.
Morris entered Thursday night with 22 home runs, second most in the Triple-A Pacific Coast League.
Adam McCalvy is a reporter for MLB.com. Read his blog, Brew Beat, and follow him on Twitter at @AdamMcCalvy. This story was not subject to the approval of Major League Baseball or its clubs.