Ibanez ends homer drought, but Saunders falters
Ibanez ends homer drought, but Saunders falters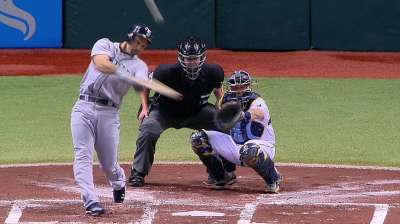 ST. PETERSBURG -- Raul Ibanez hit his first home run in more than a month, but the Mariners didn't get much else going Thursday night in dropping a 7-1 contest to the Rays at Tropicana Field.
Tampa Bay improved to 68-51 with the series-clinching victory and pulled to within two games of Boston in the American League East chase, while Seattle fell to 55-65 and now heads to Texas to continue a tough nine-game trek.
Joe Saunders lasted just 4 1/3 innings in losing for the fourth time in his last five starts as Seattle continued struggling to find consistency in the back end of its rotation. Felix Hernandez and Hisashi Iwakuma are a combined 22-11 this season, but Seattle's other starters have gone 22-33.
Saunders fell to 10-12 with a 4.86 ERA as he gave up seven hits and five runs with three walks and no strikeouts before being replaced by rookie Brandon Maurer.
It was the third time in Saunders' last five starts that he's failed to get through the fifth inning, and he's 1-4 with a 7.77 ERA in that span.
Saunders needed 30 pitches to work through a third inning in which he allowed just one run, despite a pair of walks and two singles. The damage was minimized when Saunders induced a bases-loaded pop out by Yunel Escobar, but the Rays had already tied the game at 1 on an RBI single by Wil Myers.
But the wheels came off in the fifth after second baseman Nick Franklin and shortstop Brad Miller converged on a popup behind second, only to see the ball drop between them. That put runners on first and second with no outs, and Saunders proceeded to give up a two-run double to Myers and a two-run homer to Evan Longoria to make it 5-1.
The two rookie infielders said it was a mix-up in communication, both calling for the ball and then backing off at the last moment.
"We kept calling it and both looked at each other," said Miller. "It was just a little miscommunication, but we've got to have that one. I called for it, then it just kept going. It was pretty early. … He broke on it pretty good, and when I looked, he was kind of camped under it, and I was like, 'Dang, why did I call it?' Then we both kind of backed off."
"The ball was right at me, and I called it," said Franklin. "But it was just a miscommunication and it happened. We fixed it."
Acting manager Robby Thompson, a former All-Star second baseman with the Giants, said things might have been different in that inning had that play been made.
"That ball has to be caught," Thompson said. "For me, Nick has to go after that ball. That's his ball. He has to call him off and make the play. If Brad does call it, he better be sure he catches it. But that ball has to be caught.
"It was addressed and will be talked about tomorrow. Up here, I know there are growing pains and young players. But those balls need to be caught, and they know it, and hopefully, they'll learn from it and it won't happen again."
The Mariners had just missed their own opportunity to blow open a 1-1 game when Rays starter Alex Cobb struck out Franklin with the bases loaded in the top of the fifth.
"That was just one of those turning points in the game, where a half-inning before, we had the bases loaded, and they struck a guy out and gave them momentum," said Saunders. "Then we give it right back to them. It was just hard to recover from that. That was pretty much the turning point in the game."
Ibanez ended his month-long homer draught as he clubbed a solo shot in the second off Cobb. It was Ibanez's 25th long ball of the season, but first since July 12. The 41-year-old hit 24 home runs in his first 71 games this season, then went 22 starts until Thursday's blast.
"You know, after the [All-Star] break, obviously, I haven't really felt great," Ibanez said after his 2-for-4 night. "Those days off, I don't know that they treated me well. They treated some guys well, but didn't treat me very well. But as of late, I think I've been putting together better at-bats. I'm swinging the bat a little better."
Ibanez remains fourth on baseball's all-time single-season list for home runs by a player age 41 or older, but is just four shy of the record 29 hit by Ted Williams at age 41 in 1960. Barry Bonds hit 28 at age 42 in 2007 and 26 at age 41 in 2006.
Ibanez had hit more than 25 home runs in just two of his previous 17 seasons in the Majors, with 34 for the Phillies in 2009 and 33 for the Mariners in 2006. He's the first Mariner with 25 home runs since Russell Branyan (31) and Jose Lopez (25) in '09.
Cobb, pitching for the first time since getting hit in the head with a line drive on June 15, picked up the win with a five-inning effort, while allowing just three hits and one run with two walks and six strikeouts. The 25-year-old improved to 7-2 with a 2.94 ERA.
Myers, a 22-year-old rookie, went 3-for-4 with four RBIs on a night the Mariners totaled just five hits.
Greg Johns is a reporter for MLB.com. Follow him on Twitter @GregJohnsMLB as well as his Mariners Musings blog. This story was not subject to the approval of Major League Baseball or its clubs.