Ross' gem goes for naught against Mets
Ross' gem goes for naught against Mets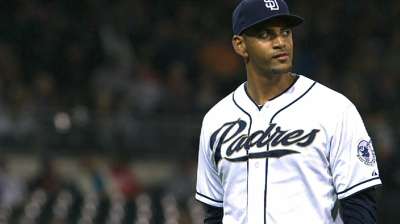 SAN DIEGO -- If you squint hard enough, and if you dig deep enough, you can find a stain on Tyson Ross' impressive stretch of starts since returning to the Padres' rotation last month.
It was evident Thursday night, as Ross was thrown out trying to score from second base at a critical point in the Padres' 4-1 loss to the Mets before a crowd of 21,400 at Petco Park.
In a tied game, Ross was cut down at the plate on a strong throw from center fielder Juan Lagares with catcher John Buck applying the tag on a close play, stealing a shot at momentum -- and the lead -- from the Padres.
"I'm definitely not as fast as I thought I was," Ross said, managing a smile. "I'm not used to sliding. I think that's the first time I've had to slide since I was 18."
There hasn't been a whole lot else to nitpick.
Ross' rusty work on the bases can be forgiven if his roll on the mound continues like it has since he went back into the rotation on July 23. Since then, he's 3-1 with a 1.32 ERA in five starts.
"That was really something," said Padres manager Bud Black.
Ross allowed one run on five hits in seven innings with no walks and eight strikeouts. He was still going strong at the end, using his mid-90s fastball, slider and changeup. In fact, he struck out the side in his final inning.
"He located his fastball, he got the slider in the zone and then moved it out when he had to," Black said. "He held his stuff for seven innings."
Ross needed to be good, especially with the way Mets rookie pitcher Zack Wheeler -- a player the Padres strongly considered picking in the first round of the 2009 Draft -- was dealing, as he struck out a career-high 12 batters and allowed one run in six innings.
"I made pitches when I had to," Wheeler said. "I think that was the biggest thing. My slider was working tonight. I was able to throw all my off-speed pitches over for strikes, and it worked out well for me."
Ross was right there to match him, though both pitchers were left with no-decisions after they departed with the game tied at 1.
Marlon Byrd gave the Mets (55-64) a 3-1 lead with a two-run double over the head of right fielder Chris Denorfia in the eighth inning. Catcher John Buck added a solo home run in the ninth as the Mets took the first game of this four-game series.
The Padres (54-67) finished with seven hits and have now scored more than three runs just once over the last nine games -- all of which have been played without Carlos Quentin (knee injury) and All-Star shortstop and leadoff hitter, Everth Cabrera (suspension).
"It's frustrating," said Padres first baseman Yonder Alonso, who reached base three times. "We have to score to win."
Alonso was involved in an odd play in the fourth inning that led to the Mets first run of the game. With Daniel Murphy on second base and two outs, Josh Satin rolled a grounder at shortstop Ronny Cedeno, who fielded the ball barehanded and fired across the infield.
But first-base umpire Brian McKnight ruled that Cedeno's throw pulled Alonso off the bag. Murphy kept right on running, sliding home without a throw as Alonso, then, eventually, Black, pleaded their case to no avail.
"It's such a bang-bang play," Alonso said. "I thought I was on it [bag]."
The ball reached Alonso in time to get the runner, had his foot stayed on the base, but the official scorer gave Satin a hit and an RBI, somewhat surprisingly, making Ross' only run allowed earned.
Then in the fifth inning, Ross singled sharply to center field with one out and moved to second base on Will Venable's single to left. Wheeler then got a big out when he got Chase Headley looking at a called third strike. Alonso then lined a single to center field that Lagares made a strong throw home on.
"That's the kind of shot we have to take," Ross said.
The Padres got to Wheeler -- well, if you could call it that -- for a run in the fourth inning as Headley lined a single to right field and eventually advanced to third base with one out. Rookie Jaff Decker lifted a fly ball to left field, medium depth, were Eric Young Jr. caught the ball.
Headley tagged up and scored ahead of the throw to tie the game, where it remained until Byrd broke the game open with his double off Padres reliever Luke Gregerson (5-7).
"That was sort of a tough play," Black said of the line drive hit over Denorfia's head.
And a tough loss for the Padres, who have dropped seven of their last nine games.
Corey Brock is a reporter for MLB.com. Keep track of @FollowThePadres on Twitter. This story was not subject to the approval of Major League Baseball or its clubs.