Wheeler fans 12 Padres as Mets end skid
Wheeler fans 12 Padres as Mets end skid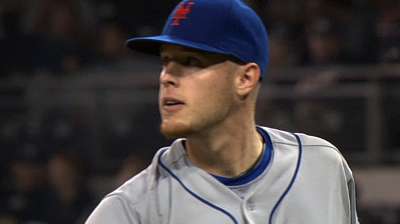 SAN DIEGO -- Eleven starts into his big league career, Zack Wheeler hardly resembles the pitcher who made his debut in Atlanta two months ago. That is how the Mets see things, at least, watching his improvements unfold from week to week.
Lately, Wheeler's growth appears to be exponential. Piggybacking off last weekend's start in Phoenix, where he walked no one for the first time, Wheeler struck out a career-high dozen batters Thursday night in a 4-1 victory over the Padres at Petco Park.
"I think he's made a vast improvement since he's been up here," Mets manager Terry Collins said of Wheeler, who threw a career-high 115 pitches over six innings of one-run ball. "He's a very astute kid. You watch him, he pays attention. He's not walking around, enjoying his time. He's trying to get better."
Statistically speaking, Wheeler is not simply trying -- he is. Since posting a 5.06 ERA over his first three career starts, the former top prospect has gone 4-1 with a 2.87 ERA since the start of July, striking out 44 batters and walking 19.
"A good young arm, good delivery" was how Padres manager Bud Black described Wheeler after seeing him for the first time. "He repeats his delivery, repeats his arm stroke. I was impressed by his stuff and how he went through the game."
"I made pitches when I had to, I think that was the biggest thing," Wheeler said. "My slider was working tonight. I was able to throw all my offspeed pitches over for strikes, and it worked out well for me."
As a result, the Mets won, snapping their three-game losing streak. After catching precious few breaks during a sweep in Los Angeles, they even saw their luck turn a little further down the Pacific Coast.
The first of those breaks came in the fourth inning, when Josh Satin hit a grounder to short with Daniel Murphy on second base. Though Ronny Cedeno fielded the ball and fired in plenty of time to nab Satin, first-base umpire Brian Knight ruled that Yonder Alonso's foot came off the bag on the play. The Mets scored their only run against Padres starter Tyson Ross as a result, despite inconclusive replays.
Four innings later, the Mets took the lead for good on Marlon Byrd's liner off Luke Gregerson to deep right field, which soared over Chris Denorfia's head. At the crack of the bat, Denorfia stopped in his tracks, allowing a potentially catchable ball to sail out of reach.
Defensive help came in the fifth inning for the Mets, when center fielder Juan Lagares threw out Ross attempting to score from second on a single. And that was all the visitors needed. With Wheeler on the dugout bench, regular closer Bobby Parnell on the disabled list and interim ninth-inning man LaTroy Hawkins unavailable, rookie Gonzalez Germen recorded the final six outs for his first career save.
"He doesn't get too affected by the pressure," Collins said of Germen.
More and more, Wheeler seems unaffected by it as well. Wheeler said he feels "like I'm getting better every time out," constantly learning new things. Chalk much of that up to his unusual brand of self-awareness; even after good starts, Wheeler typically manages to find something he doesn't like.
Much of what irked the rookie Thursday unfolded in the third inning -- not necessarily the fourth, when the Padres scored their only run against him on Jaff Decker's sacrifice fly. It was the third inning that saw Wheeler work a 1-2 count on Padres backup catcher Rene Rivera, before hanging an inside slider on his fourth pitch of the at-bat.
Rivera crushed the ball toward the left-field seats, where Eric Young Jr.'s leaping effort brought it back into play and off the top of the wall for a triple. As umpires walked inside to review the play, catcher John Buck came out to the mound to deliver a lesson.
Trust your stuff, Buck told Wheeler, who admitted to trying to deliver his slider with superhuman precision. Because Rivera was so geared up for Wheeler's upper-90s fastball, Buck explained, a bad slider in a good location would have been better than a good slider in a bad location.
"That's the darn human factor," Buck said. "Even though they're big, huge prospects and they've had success, it's about coming up and having success here, and also having failures and learning from them, and how you respond back from that. It's about going through that and experiencing it and adjusting correctly rather than trying to do more."
Nearly word for word, Wheeler repeated that sentiment. He understands it, which is not always natural for young players.
As Wheeler put it: "Game in, game out, every start you're learning something new." He is now translating that knowledge into genuine improvement, plain for everyone to see.
Anthony DiComo is a reporter for MLB.com. Follow him on Twitter @AnthonyDicomo. This story was not subject to the approval of Major League Baseball or its clubs.