Dunn finding success going the other way
Dunn finding success going the other way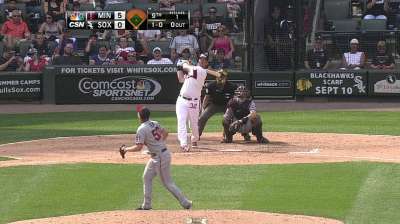 MINNEAPOLIS -- Adam Dunn has continued to impress at the plate, despite Chicago's season-long troubles.
Over 58 games since June 8 -- heading into Thursday's game -- Dunn is batting .310 with 14 home runs, 39 RBIs and 38 walks. His already solid hitting has been bolstered by his recent ability to hit to the opposite field more often.
"It's probably a little bit of change, but I think everybody ends up making adjustments over the course of their career," manager Robin Ventura said. "It's helped him. He's knocking in some big runs for us going the other way. Now you're starting to see teams straighten back up on him, which allows him to really get that ball back in the hole."
Dunn was tied for fourth in the American League with 27 home runs and tied for fifth with 63 walks entering play Thursday.
Kelly Erickson is an associate reporter for MLB.com. This story was not subject to the approval of Major League Baseball or its clubs.