Viciedo misses sixth straight start with sore thumb
Viciedo misses sixth straight start with sore thumb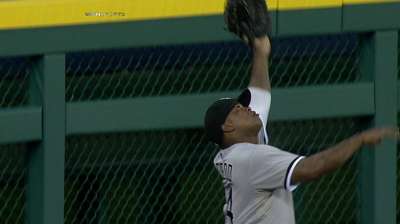 MINNEAPOLIS -- Dayan Viciedo missed his sixth straight start and eighth of the last nine Thursday night in the White Sox series opener with the Twins.
Viciedo is nursing a sore thumb on his left hand and while he feels fine hitting, fielding is another matter, according to manager Robin Ventura.
"He's getting better," Ventura said. "Every day is just kind of a little better. It's not enough where he's at 100 percent. He says he can swing, but for some reason or another, just the way his hand goes in his glove and going to catch a ball, it just doesn't feel right."
Viciedo did pinch-hit Wednesday in Chicago's 8-7 loss at Detroit, but was hitless in one at-bat.
Meanwhile, Jordan Danks has been filling Viciedo's vacant outfield spot. Ventura noted that it's nice to have that added depth in the outfield with another player who can string together several starts in a row.
"It's different when you get guys that can stretch out five games in a row instead of one every five days," Ventura said. "He's played well, and again, we'll see what he does with it. You're looking at a different roster with 'Tank' having some days because of his thumb."
Over his last five games entering Thursday, Danks is 6-for-17 at the plate for a .353 batting average and one homer.
Kelly Erickson is an associate reporter for MLB.com. This story was not subject to the approval of Major League Baseball or its clubs.