Scott, McGee bring smiles, gifts to children's hospital
Scott, McGee bring smiles, gifts to children's hospital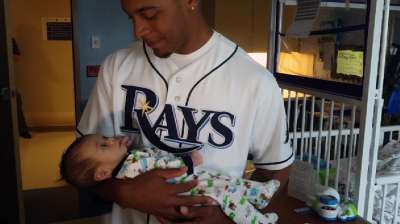 ST. PETERSBURG -- Designated hitter Luke Scott and left-handed reliever Jake McGee paid a visit to All Children's Hospital in St. Petersburg before the Rays' game against the Mariners on Thursday.
Both players said they could see patients' faces light up as they handed them signed photos and introduced them to team mascot Raymond.
"I've been blessed to be put on this platform to do something I love, and an opportunity to show some hope to someone else is a welcome one," said Scott, who was making his first visit to the hospital.
McGee had gone before, but said each visit is different. He and Scott split up, hitting different floors in order to meet as many kids as possible. Both said it would not be their last trip to All Children's.
"You can see them smiling and getting excited," McGee said. "It makes their day. It's pretty cool. I like doing it. It makes you appreciate a lot. It's pretty eye-opening."
Sam Strong is an associate reporter for MLB.com. This story was not subject to the approval of Major League Baseball or its clubs.