Soriano can't preserve Haren's strong start
Soriano can't preserve Haren's strong start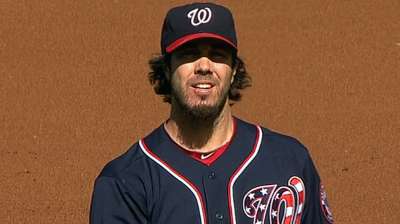 WASHINGTON -- The Nationals were a few inches away from their first six-game winning streak of the season Thursday afternoon at Nationals Park.
With two on, two out and a 2-2 count, closer Rafael Soriano threw a high fastball to pinch-hitter Hector Sanchez. Home-plate umpire Jim Joyce called the pitch a ball. Then Sanchez hit his first home run of the season on the very next pitch, smoking a line drive down the right-field line just inside the foul pole.
Soriano blew his fifth save of the season. The Nationals lost, 4-3, and quietly packed their bags for Atlanta, where they will open an important three-game series with the Braves on Friday.
"That one hurt," manager Davey Johnson said. "That one hurt."
Soriano, who signed a two-year, $28 million contract in the offseason, gave up a single to Buster Posey and walked left fielder Roger Kieschnick on six pitches. Up came Sanchez, a 23-year-old backup catcher who was hitting .213 this season with no extra-base hits.
Sanchez fouled off two pitches and took two balls. He said that the 2-2 pitch was "really close." Catcher Kurt Suzuki thought it was a tick high. Soriano said it was a strike that should have ended the game.
"I think, to me, that would be the game right there," Soriano said. "I don't think it was a bad pitch at all. I think it was a strike. But I don't make that decision."
Johnson said Joyce hadn't been calling high strikes all game, so he thought the pitch was consistent with Joyce's zone. The Nationals' skipper was more upset that Soriano walked Kieschnick with two outs.
"The .250 hitter, you've got to get him out," Johnson said. "Can't come close to walking [him]. Got to make him put it in play. That's what hurt."
With one swing of the bat, Sanchez halted the momentum that had been brewing in the Nationals' clubhouse. He also ruined another strong outing by resurgent starter Dan Haren, who was in line for his fourth straight win.
Haren had one of the worst ERAs in the Major Leagues before being placed on the disabled list with right shoulder inflammation in June. But on Thursday, he limited the Giants to three hits while walking two and striking out three over six innings. A solo home run by Brandon Belt in the sixth inning was the only blemish on an otherwise solid day.
"I didn't have my best stuff today," Haren said. "But I was just focused on keeping the ball down and letting the defense work for me as much as I could. I had a couple of walks, but they didn't burn me. The solo homer, that's no big deal there. I definitely didn't have my best stuff, but I made it work."
Like Haren, the Nationals' offense has continued to show signs of life recently. After leaving the bases loaded in the bottom of the second inning, the Nats scored three runs in the third. Ian Desmond smashed a line-drive double to left field with two outs to bring two runs home, and Adam LaRoche followed with a flare to left to give Washington a 3-0 lead.
The Nationals had a chance to add on in the fourth, when Suzuki's single and Ryan Zimmerman's second walk of the game chased Giants starter Ryan Vogelsong after just 3 2/3 innings. They loaded the bases in the fifth inning and put two runners aboard in the sixth but were again unable to add to their lead.
"I think probably the bigger story is we had a lot of runners on base and we didn't push them across," Desmond said. "We had the starter out after 3 2/3 and we didn't score after that. We've got to do a better job to push more runs across."
Still, Haren and the offense managed to give the bullpen a two-run cushion. Fernando Abad worked a flawless seventh inning, and Tyler Clippard pitched a scoreless eighth.
Former closer Drew Storen, who was recalled from Triple-A Syracuse before the game, warmed up in the bullpen during the seventh inning. But Johnson decided to stick with Soriano, who had also pitched Tuesday and Wednesday.
"He's my closer," Johnson said. "Three days in a row is nothing for a closer. Shoot. He had a long layoff before that. That's his spot."
Soriano said he felt strong despite pitching in three straight games. He just made one mistake.
"I tried to throw a cutter in. It was a bad pitch," Soriano said. "At the same time, I think the game [should have been] over. That [2-2] pitch, to me, I think it was a strike. I think that was when the game changed."
The loss put a damper on an otherwise strong stretch for the Nationals, who swept the Phillies before taking two out of three from the Giants. Zimmerman and Suzuki said the team still has momentum heading to Atlanta, but they also acknowledged the sting of Sanchez's home run.
"It definitely hurts," Haren added. "The mood kind of stinks right now in here. But we can't dwell on it too long because if we go to Atlanta feeling sorry for ourselves, then we're going to get rolled. Just got to come out tomorrow and try to put it past us."
Tom Schad is an associate reporter for MLB.com. Follow him on Twitter @Tom_Schad. This story was not subject to the approval of Major League Baseball or its clubs.