Roberts designated to make room for Cobb
Roberts designated to make room for Cobb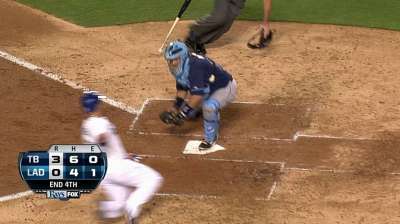 ST. PETERSBURG -- Alex Cobb's move from the 60-day disabled list to the 40-man roster to start on Thursday forced a corresponding move. Tampa Bay chose to designate infielder Ryan Roberts for assignment after optioning him three times since mid June.
"Ryan was a professional regarding how he took it and how he talks about us now and in the future," manager Joe Maddon said. "I couldn't be more proud of him. I wish him nothing but the best. I don't use the word 'classy' often, but he was classy and professional."
Outfielder Jason Bourgeois -- whose contract was selected earlier this month -- remained with the team after his first Major League hit came in the form of a walk-off single in Wednesday's 5-4 win. Bourgeois, however, could find himself out of a job when outfielder Desmond Jennings returns from the disabled list (fractured left middle finger).
"All I can do is try my best," Bourgeois said. "These guys are capable of winning a World Series with or without me. I believe in these guys. There's a team camaraderie here that's one of a kind. They're going to be just fine, but I hope to be here."
Sam Strong is an associate reporter for MLB.com. This story was not subject to the approval of Major League Baseball or its clubs.