Giants stun Nats with Sanchez's homer in ninth
Giants stun Nats with Sanchez's homer in ninth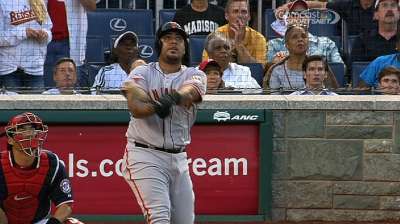 WASHINGTON -- Hector Sanchez and the Giants both needed a dose of redemption Thursday. One swing of Sanchez's bat fulfilled all parties concerned.
Bothered much of the season by an injured right shoulder, Sanchez demonstrated his restored health by smashing a three-run, pinch-hit homer with two outs in the ninth inning off Washington Nationals closer Rafael Soriano. The dramatic drive erased a two-run deficit and gave the Giants a 4-3 triumph, which ended their three-game losing streak and left them feeling like World Series champions again, at least for a little while.
"That saved a little sanity around here," Giants manager Bruce Bochy said.
Actually, the Giants could have allowed themselves a little craziness. Down to their final strike, they won their fifth game of the season when trailing after eight innings and got a little payback at the expense of Soriano, who recorded saves for Washington in the series' first two games.
The Giants' hero in one of their most thrilling victories of the season was an entirely fitting one. As has been the case with the rest of the team, Sanchez's season has fallen far short of expectations. After hitting an impressive .280 in 74 games last year, Sanchez struggled with his health throughout most of Spring Training. Being a switch-hitting catcher makes Sanchez one of baseball's most valued commodities. But his injuries made him a virtual non-entity.
Despite spending time on the disabled list and with Triple-A Fresno, Sanchez never gave up on himself or the 2013 campaign.
"That never crossed my mind," he said. "The day I turn the page is when the season's over."
That attitude, as well as Sanchez's skill, served him well when he faced Soriano, who's tied for second among National Leaguers with 31 saves. But the drama already had built by the time Sanchez left the on-deck circle.
With the Giants trailing, 3-1, Buster Posey singled to christen the ninth and begin the go-ahead rally. Soriano retired the next two hitters before rookie Roger Kieschnick coaxed a walk from Soriano on a 3-2 pitch.
Up came Sanchez, batting for Javier Lopez. Sanchez also worked the count to 3-2 before pulling a 92 mph fastball just inside the right-field foul pole into the second deck for his first homer of the year.
Sanchez said that he saw nothing but fastballs during his at-bat.
"Probably everybody knows that he likes to throw his fastball," said Sanchez, who singled off Soriano during a pinch-hit appearance Wednesday night.
Before making contact, Sanchez demonstrated unusual patience, which he has tried to turn into a habit.
"Everybody knows I was a very aggressive guy, a free swinger," he said.
Sanchez actually might have been a little too patient, since the 2-2 pitch he took appeared to skim the upper edge of the strike zone.
"That was really close," he admitted.
Of the pitch Sanchez crushed, Soriano said, "I tried to throw a cutter in. It was a bad pitch."
Referring to the 2-2 delivery, he added, "At the same time, I think the game [should have been] over. That pitch, to me, I think it was a strike. I think that was when the game changed."
Nationals manager Davey Johnson refused to complain, noting that plate umpire Jim Joyce didn't call high strikes all day. Soriano's real lapse, Johnson said, was "walking the left fielder [Kieschnick]."
Lopez (2-1) earned the decision with 1 2/3 scoreless innings, contributing handsomely to the 5 1/3 shutout innings the Giants' bullpen logged.
Sergio Romo worked a perfect ninth for his 29th save, though he needed help from shortstop Brandon Crawford, who flung himself toward second base to snare Bryce Harper's line drive leading off the inning.
"He's one of the best shortstops I've ever seen in my life," Romo said, "and he's the best defensive shortstop I've played with."
Said Crawford, "I was going for it all the way. I didn't know I was going to get it, but I knew I had a chance."
Brandon Belt continued his impressive surge at the plate by hitting his team-high 15th home run off Nats starter Dan Haren in the sixth inning.
Earlier, Washington established control with a three-run third inning off Giants starter Ryan Vogelsong, who ultimately surrendered six hits and walked three in 3 2/3 innings. Making his second start since recovering from a fractured right hand, which he sustained when Nats right-hander Craig Stammen hit him with a pitch May 20, Vogelsong acknowledged that he's still lacking about 2-3 mph on his fastball.
"It's a little frustrating because I know I'm behind and everybody else is in midseason form," Vogelsong said.
Incidentally, that's what Vogelsong noticed in Sanchez on Wednesday.
"I hit with him in his group in batting practice and he was squaring everything up," Vogelsong said, sensing that the 23-year-old was primed to seize the moment.
Chris Haft is a reporter for MLB.com. This story was not subject to the approval of Major League Baseball or its clubs.