Mariners support proposed instant replay
Mariners support proposed instant replay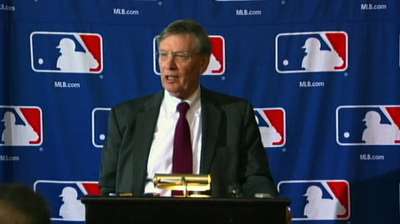 ST. PETERSBURG -- Mariners players reacted in positive fashion Thursday to word that Major League Baseball owners are proposing an expanded instant replay system for the 2014 season. The system would allow managers to challenge calls, which would be quickly decided by an umpire crew overseeing games on television monitors in New York.
"I fully agree with it," said Mariners outfielder Dustin Ackley. "It's something that could really make the game right. There are calls later in games that change the course of a game. Now that [we may] have that, I think it'll just make the team that is supposed to win, win.
"I don't see why anybody wouldn't be on board with it," Ackley said. "Umpires aren't perfect, and everybody knows that. It's one of those situations where if we can go to the replay, why not? All the other sports are doing it, so why not go to the replay?"
Shortstop Brendan Ryan initially had some reservations when hearing that managers would be able to challenge one play in the first six innings and then two more in the seventh inning on, while retaining those challenges for further plays if the New York crew agrees with their protest.
"Wow. Holy cow," Ryan said upon first hearing of the idea. "The most important thing is getting it right, but geez, are we going to have a halftime, too? There's already four-hour games. There's probably enough plays missed out there to warrant that and justify it. The only bad part is prolonging the games."
But Ryan eased back on that concern when told the umpires on the field wouldn't be going off to a booth to review the plays, but rather would rely on quick communication with the New York command center.
"That's a good measure," said Ryan. "That's what we've been saying. Why have them run down underneath? Why not just have a guy sitting in front of a TV and, boom, replay, it's 15 seconds. So that's pretty good. If I'm safe and I get called out, then I'm pretty happy about that guy sitting in front of the TV. That's not so bad. I'm all for it then. It's cool to have some human error in the game, but there's some stuff missed out there that nobody should feel good about."
Greg Johns is a reporter for MLB.com. Follow him on Twitter @GregJohnsMLB as well as his Mariners Musings blog. This story was not subject to the approval of Major League Baseball or its clubs.