Rienzo denied first win as Twins rally for walk-off win
Rienzo denied first win as Twins rally for walk-off win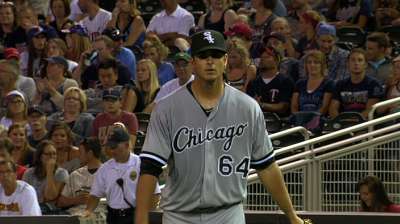 MINNEAPOLIS -- Andre Rienzo has yet to earn his first career win.
Thursday night at Target Field, he looked to be on the brink of it, exiting the game after six innings in which he only gave up two runs (one earned) on just four hits. He issued no walks and struck out two. The White Sox held a one-run lead and it looked as if the right-hander was primed for his first victory.
An eighth-inning RBI single by Justin Morneau denied Rienzo's golden opportunity.
The White Sox couldn't stave off a late Twins rally in the series opener, falling 4-3 on a walk-off single by Chris Herrmann in the ninth.
"It was a good performance," White Sox manager Robin Ventura said of Rienzo's outing. "It was just one of those -- you feel bad for him because he's pitched pretty good and hasn't really had anything to show for it. They scratched away and end up beating you."
With the game tied in the bottom of the ninth, the White Sox turned to right-hander Ramon Troncoso. With runners on first and second and one out, Herrmann stepped into the batters' box, pinch-hitting for Pedro Florimon.
First baseman Paul Konerko dove for Herrmann's grounder, but it slid into right field, scoring Doug Bernier from second for the come-from-behind win.
"Fortunately for us, Herrmann bangs one through and there you have it," Twins manager Ron Gardenhire said. "It was a nice win after a really, really tough loss last night. Some good things happened out there."
Despite putting the Twins in an early 3-0 hole, jumping on starter Mike Pelfrey with a three-hit, two-run first inning and another run in the third, Minnesota made things interesting, tying the game at 3 in the eighth.
In his one-third of an inning, right-handed reliever Nate Jones gave up a base hit to Morneau to score Joe Mauer, who had doubled one batter earlier, to knot the game.
While the bullpen struggled, Rienzo kept the Twins scoreless through 4 1/3 innings before giving up a solo shot to Trevor Plouffe in the fifth. An inning later, Brian Dozier scored from second on a Josh Willingham base hit to center. Dozier led off the inning by reaching on an error by shortstop Alexei Ramirez.
Rienzo was given a cushion before he stepped on the mound. Alejandro De Aza and Gordon Beckham -- who later left the game with a right quad strain after 3 1/2 innings -- led off the game with back-to-back base hits, each to right field. Cleanup hitter Adam Dunn got the third base hit of the inning, this time to center, scoring De Aza for a 1-0 lead. Beckham tagged home one batter later on a Konerko sacrifice fly to right.
De Aza scored once more off Pelfrey. In the third, he led off with a walk and tagged home on a Ramirez sacrifice fly to left, giving the White Sox a 3-0 lead.
Pelfrey worked 6 1/3 innings and gave up the three runs on seven hits and one walk. He also struck out four.
"I'm encouraged by the way it finished, but not so much by the way it started," Pelfrey said of his outing. "Giving up two runs in the first is never the way you want to start. But my command was much better than my last start, when I had five walks and a hit batter."
Chicago had a strong opportunity in the seventh to take a 4-2 lead with Conor Gillaspie on third and Josh Phegley on first with no outs. Twins reliever Josh Roenicke retired the next three batters to keep the White Sox at bay.
"You've got to continue that on," Ventura said. "The one inning we had first and third and one out, didn't really get anything out of it. That really turns the momentum back to them."
Despite the hard luck, Rienzo isn't focusing on the unachieved win, but rather what he can do for his team.
"The team tried. I tried," Rienzo said. "If the team loses, the team follows. If the team's winning, the team follows. I believe in the guys and the guys tried hard to get a win. I tried hard to give the chance to win. If one people lose, all the team loses. Next time, maybe I'll be better and help the team more."
Kelly Erickson is an associate reporter for MLB.com. This story was not subject to the approval of Major League Baseball or its clubs.