Astros stung by former prospect as bats go cold
Astros stung by former prospect as bats go cold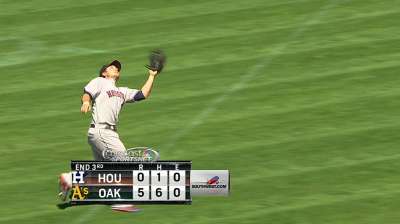 OAKLAND -- One of the biggest decisions the Astros faced last spring was what to do with first baseman Nate Freiman, the 6-foot-8 slugger who they took in the Rule 5 Draft with visions of adding some power to their lineup.
Freiman impressed the Astros in spring camp, but wound up being squeezed out of the picture with the presence of Carlos Pena, Brett Wallace and Chris Carter at the same position and was gobbled up on waivers in late March by the A's.
He has been a headache for the Astros since, going 4-for-4 with a homer, double and four RBIs on Thursday afternoon to lead the A's to a 5-0 win over the Astros in the final game of the series at O.co Coliseum.
"He's a guy that comes to play every day," Astros manager Bo Porter said. "We knew when we took him in the Rule 5, you look at his skill sets and this guy handles left-handed pitching. He's hit left-handed pitching his entire career, and that was the reason we actually took him in the Rule 5. You look at his numbers, it has pretty much held true. He has done a tremendous job for the A's and done some damage against us as well."
The win denied the Astros a chance to get their third sweep of the season, but the series was a step in the right direction. They won their first series in two months and have a little momentum heading to Anaheim, where they swept a four-game series May 31-June 3.
"To take two of three from a team that's contending for the playoffs is good for us," catcher Carlos Corporan said. "We're not going to be a red carpet for the teams that are fighting for the playoffs to stroll. We'll keep playing hard and we're going to try to make it so they don't make the playoffs."
Astros starter Erik Bedard lasted only 4 2/3 innings, throwing 97 pitches, in his shortest outing since June 8. He gave up five runs and seven hits en route to falling to 3-9, and he hasn't won since June 26, a span of eight starts (0-6).
"Too many deep counts," Porter said. "You look at the pitch count, you're close to 100 pitches in 4 2/3, and that will let you know right there."
The veteran lefty allowed the first three batters he faced to reach, including Chris Young, who led off the game with an infield hit that appeared to be an out at first base. Jed Lowrie followed with an RBI double, and Josh Donaldson walked before Freiman shot a double down the right-field line to make it 3-0.
"It wasn't a good start," Bedard said. "A missed call, and then I gave up a couple of runs."
Freiman slugged a two-run homer in the third to stretch the lead to 5-0. It was his third homer of the season, all of which have come against the Astros, two against Bedard. Of Freiman's 22 RBIs this year, 10 have come against Houston.
"He just gets good at-bats," Bedard said. "I certainly can't get him out. You know, you do the best you can and hopefully next time he doesn't get any hits."
Freiman added singles in the fifth and seventh innings to finish with career highs in hits and RBIs.
"It's special to have a game where you get a couple of hits, drive some runs in, but as far as the Astros go, I have nothing but good things to say about them," he said.
A's starter Sonny Gray sliced through the Astros lineup by allowing three singles, two by Robbie Grossman, and a double in eight scoreless innings for his first career win. Thursday was his fourth career appearance and second career start.
"He was pretty good," Corporan said. "He was very good. He was painting pitches. He was using all his pitches. He was working fast and he was effective."
Porter isn't surprised Freiman has had an impact with the A's.
"It just came down to a numbers game," he said. "Don't get me wrong. Nate did a tremendous job for us and we hated to see him go. Even when he left, I told him, 'Look, you belong in the big leagues and somebody is probably going to claim you.' Give the Oakland Athletics credit. They claimed him and he's been a good asset for their ballclub."
Brian McTaggart is a reporter for MLB.com and writes an MLBlog, Tag's Lines. Follow @brianmctaggart on Twitter. This story was not subject to the approval of Major League Baseball or its clubs.