Kids can play: Rookies Gray, Freiman deliver in finale
Kids can play: Rookies Gray, Freiman deliver in finale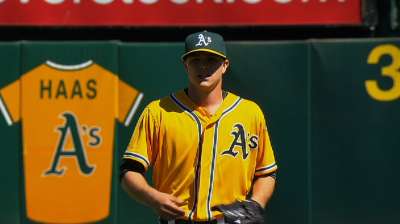 OAKLAND -- The swarms of reporters finally scurried toward offensive hero Nate Freiman, leaving Sonny Gray to breathe, finally, and observe the mementos from his first Major League win.
There was the lineup card, laminated and left on the chair at his locker by A's pitching coach Curt Young, and a box of balls with scuff marks, including the one he used to record the final out of the eighth inning, complete with a sticker of authenticity placed at the seem.
"I don't know why they gave them to me," Gray, 23, said. "I'll probably give them to my mom."
Indeed, Gray's second career start on Thursday and first in front of the hometown fans at the Coliseum -- a 5-0 win to avoid a sweep against the Astros -- was one deserving of real estate in his trophy case. Oakland's first-round pick in the 2011 First-Year Player Draft tossed eight shutout innings against the Astros, striking out nine and walking one to deliver the finale and pull the A's within 1 1/2 games of the inactive Rangers in the American League West standings.
The rookie right-hander kept the Astros off balance with a mixture of high-movement fastballs, bouncing curveballs and a deviously deceptive changeup that limited the Astros to just four hits against him.
"The silly part about it is he throws nothing straight," said A's catcher Derek Norris, who left the game to start the eighth inning because of back spasms that had kept him out of the A's previous four games. "His fastball cuts, it sinks, it runs, it's got depth -- and we haven't even gotten past the fastball yet."
Gray's outing was backed by a career best from fellow rookie Freiman, who delivered a four-hit game and drove in four runs against the team that selected him in the 2012 Rule 5 Draft before being claimed off waivers by the A's earlier this year.
Gray tossed a career-high 118 pitches to match the season high for an A's pitcher with Tommy Milone, whom Gray replaced in Oakland's starting rotation last week. Gray has struck out 20 batters in 18 innings over his four appearances this season, two of which came as a reliever.
"He throws the ball outstanding and he's a very exciting arm," Norris said. " I'm looking forward to catching him several hundred times."
Chris Young, Jed Lowrie and Josh Donaldson each reached base to start the bottom half of the first inning, and all three went on to score. Lowrie drove in Young off a double for the A's first run, and Freiman slapped a double down the right-field line for two more later in the inning.
The 6-foot-8 first baseman tacked on an additional pair of runs in the third with a two-run home run, and he added singles in the fifth and seventh for good measure to finish with a career-best four-hit game.
"With four hits -- we had eight total -- I told him he was showing off," A's manager Bob Melvin said.
The A's will take it after entering Thursday batting .227 and averaging just 3.70 runs per game over their last 30 games. Their .244 average on the season is fourth-lowest in the AL, which has been magnified recently with back-to-back one-run losses and an overall inability to pull off late-game wins that highlighted earlier victories this season.
"We knew all along our offense is going to be there for us," Norris said. "Every team goes through slumps, every team goes through little funks. I'd much rather us get it out of the way now and make a nice, strong push over the next month and a half than have the slump be toward the end of September."
Placing even more concern on the team's offensive inefficiencies has been an overall drop in effectiveness from Oakland's starting pitching, which had gone 3-7 with a 4.90 ERA in 15 games entering Thursday and saw normally reliable Bartolo Colon have two of his worst outings of the season in consecutive starts. Gray's showing on Thursday is an encouraging sign for a team that has lacked a spark on both sides of the ball.
"As far as changing the dynamic, it just means we have another quality guy," Melvin saiid. "Stuff-wise, he's probably as good as anybody we have. You want to make sure somebody like that is ready for the big leagues, more emotionally than anything else. I think the organization did a smart thing by bringing him up in the bullpen a couple of times to get his feet wet before he got the start. He's really been great."
Melvin said after the game that Gray's 118 pitches, while not ideal, provided relief for a bullpen that had been taxed over the past handful of games. The A's manager said he wanted to avoid using his three back-end relievers, and Dan Otero, who finished the ninth, had pitched in their three previous games.
"Obviously, I'm always a little uncomfortable when one of our younger guys throws anything more than 110 pitches," Melvin said, "but eight more pitches with the adrenaline he had really helped us out as far as the bullpen went."
Gray said he didn't feel fatigued during the game, with the adrenaline of his first career win surely helping his cause. He drew comparisons to Tim Hudson from Melvin -- not the first time that's happened, Gray said -- and praise from Astros skipper Bo Porter for his ability to make the Astros miss with his curveball.
"Their guy was really good today. Really good breaking stuff," Porter said. "I thought he did a good job of moving his fastball in and out and threw some breaking balls to get us to expand the zone as well and pitched a tremendous game."
Gray didn't even throw his slider once, a fact Norris shared to emphasize his prospects as a premier pitcher. For Freiman, who faced Gray last year in the Texas League, he was just glad to be on the same side this time.
"For the most part, it ended in his favor," Freiman said as he recalled the games' outcomes. "He wasn't a guy we looked forward to facing, by any means. I'm not surprised. None of us are surprised."
Jeff Kirshman is an associate reporter for MLB.com. This story was not subject to the approval of Major League Baseball or its clubs.