Davey shares thoughts on expanded replay
Davey shares thoughts on expanded replay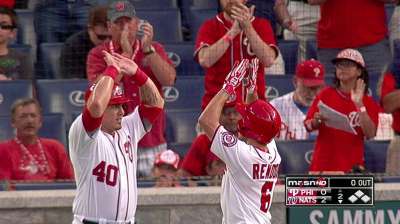 WASHINGTON -- Nationals manager Davey Johnson didn't seem too enthusiastic about the prospect of an expanded replay system Thursday, when Major League Baseball Commissioner Bud Selig announced that the league will implement such changes next season.
"Well, if they're going to do it, do it all. Might as well have electronic strike zones," Johnson said. "The umpires, it's always been a part of the game where they're going to mess up, just like a player or manager messes up. So you argue and you get thrown out. That's part of the game."
Selig announced the proposal after spending the past two days discussing it with ownership groups for all 30 teams. It still must pass a vote at an owners' meeting in November and receive approval from the Players Association and umpires.
It would expand replay from looking only at disputed home runs to looking at almost anything except ball-strike calls. Managers would challenge calls -- getting one over the first six innings and two for the remainder -- and a crew at MLB.com's headquarters in New York will make a ruling.
Johnson had another idea.
"The only thing I wish they would do, and they could expand the replay, is do it on the big screen," he said, referring to the large video boards present in most stadiums.
"With all the technology, everyone's got eight different angles on everything every time you look at it. [Nationals coordinator for advanced scouting and video] Erick Dalton has eight screens in there when he's doing the scouting on it, so immediately you know. So why leave the field? Shoot, pop it on the jumbo. Let everybody look at it."
Jason Mastrodonato is a reporter for MLB.com. Follow him on Twitter @jmastrodonato. Andrew Simon is a reporter for MLB.com. Tom Schad is an associate reporter for MLB.com. Follow him on Twitter @Tom_Schad. This story was not subject to the approval of Major League Baseball or its clubs.